The Mitten by Jan Brett – Preschool Lapbook Resources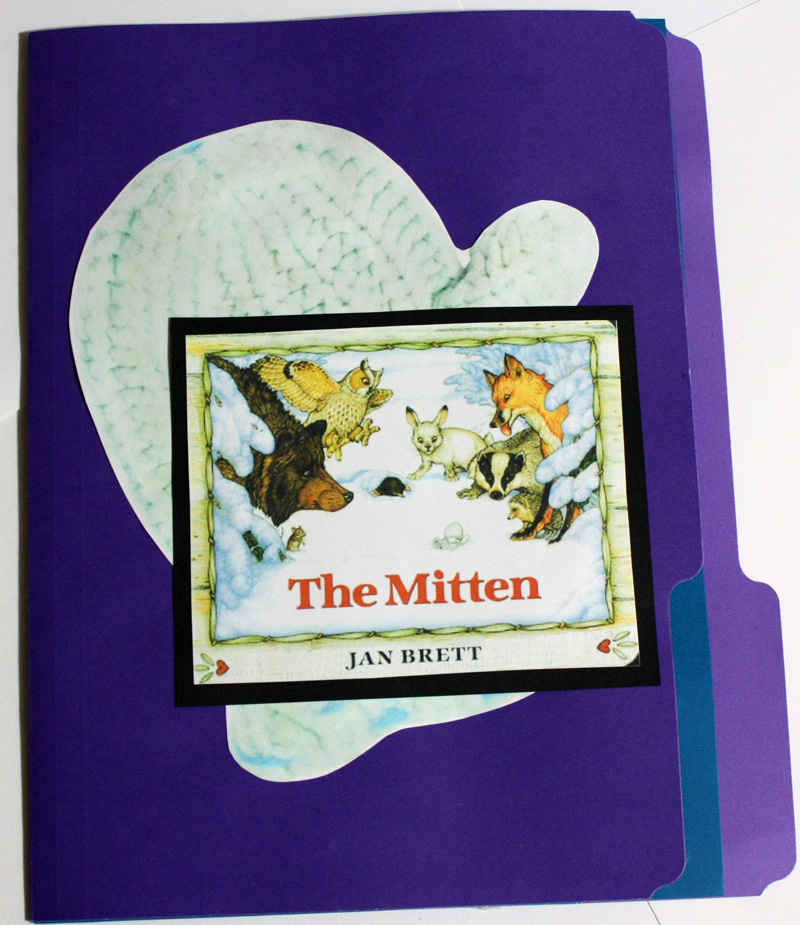 Recently I stumbled across some wonderful free printables to go along with the children's book The Mitten, by Jan Brett. I thought it would be fun to create a lapbook to store and display the print-outs, mini-books, and matching-game pieces. Both winter-themed printables and those made specifically for the book are included. This lapbook wasn't really planned out in advance, (I'll try to do better next time) but I like how it turned out!
Glues
A word about glues for lapbooking – I've found that high-quality name-brand glue sticks work better than any other type. Liquid glues such as school glue or tacky glue adhere well, but they wrinkle the paper and cardstock. And in my experience, the cheaper generic-brand glue sticks don't stick well to card stock and file folders.

Assembling the Lapbook
For this lapbook, I cut the blue folder about one inch from the fold and glued it inside the purple folder.  (See image above.) I then cut a 2″ strip from the leftover blue folder to hold our matching-game pieces (see image below).  I glued the strip on each end and then in 2 or 3 spots in the middle to hold the pieces tight.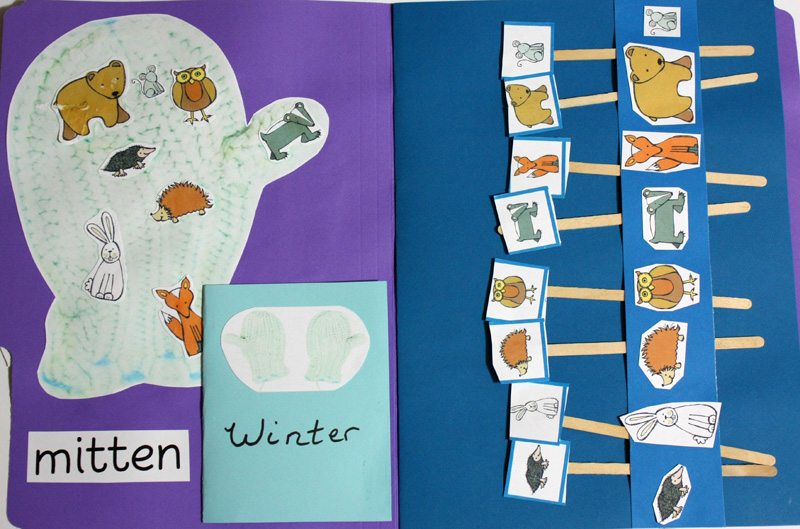 Links to the Free Printables
Even if you don't plan on making a lapbook, these are great educational resources for preschoolers and kindergarteners!
Realistic Animals and Mittens, and Words (These are just a few of the components of this large educational printable pack.)
Cartoon Animals, Blank Mittens to Color, and Mitten Colors Mini-Book (These are just a few of the components of this large educational printable pack.)
Winter Is Here Mini-Book, Winter Clothes Mini-Book, My Winter Mini-Book (I combined these three into two mini-books.)
The Mitten Book – Mitten-Shaped Mini-Book (This was free at the time I downloaded it.)
Hope you have fun!  Have you made a lapbook for The Mitten, by Jan Brett?  Comment below with your ideas and/or links!
---
Copyright 2013 Kathryn Depew
Related articles