Creative Homeschooling: Resources For Lapbooks, Mini-Books, and Printables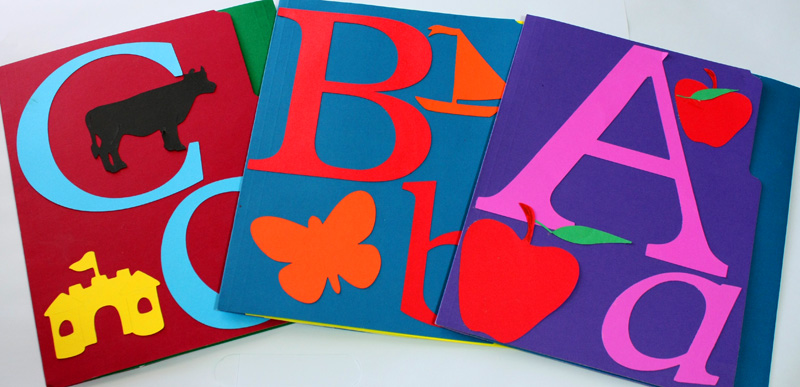 I was introduced to the concept of lapbooking a year or two ago, and I was instantly hooked on the idea – probably because I love to scrapbook!  I never grew out of my love for cutting and pasting.  Now that M is big enough to have fun cutting and pasting, too, we have started lapbooking the alphabet.  I am making our lapbooks so that they each have a pocket to hold worksheets and coloring pages.  It's a great way to keep everything related to a particular letter in the same folder (and also justify using two folders per letter)!
Disclosure: This post contains affiliate links and I will receive a small commission if you make a purchase after clicking on my links.
How I Got Organized (More or Less)
I set a goal for the second week in January to start our preschool at home, and bought an inexpensive weekly planner to map out some lesson plans.  (Since I didn't have a clue on how to do this, I interviewed and pestered experienced friends and family.)  Organized by month in one box are the materials we'll use through April, such as the Bible Story coloring pages or crafts and Five In A Row books.
Organized in order in another drawer close to my printer are the file folders for our letter lapbooks.  As I find related mini-books, coloring pages, and crafts online, I print them out and pop them in the right folder.  M also has cutting and pasting workbooks, and if one of those finished projects will fit with a letter (such as fish for "F") I file it away in that folder.  I also spent a few hours cutting out all the letters (uppercase and lowercase) and related shapes (such as a bear shape for "B") with my Cricut Expression® Machine.   These cutouts were all filed away, too.  When we started in January, I was able to pull out the letter "A" folder and get started right away!
Preschool For A Three-Year-Old
At three years old, M doesn't need a lot of "sit-down time" each and every day of the week, but I want to provide ways to stimulate her curiosity and love of learning even at this young age.  Now, three to five days per week, we do some or all of the following:
Bible story with related craft or coloring page (usually from A BEKA – they have great craft books for young kids).
Five In A Row story with related activity.
Letter Lapbook activity such as a coloring page, mini-book, or paper craft.  (I'm aiming for one letter per week.)
Reading lots of other books.
Crafts, painting, random coloring, etc.
We usually spend up to an hour and a half at a time, but I'm very flexible – learning is FUN and I don't want to push too hard.  (Right now M loves to "do school!") We move on to the next task (or to running around the room) when she gets antsy or bored.  The planned activities above are supplemented by hands-on play at home, friends' houses, and at our local children's museums.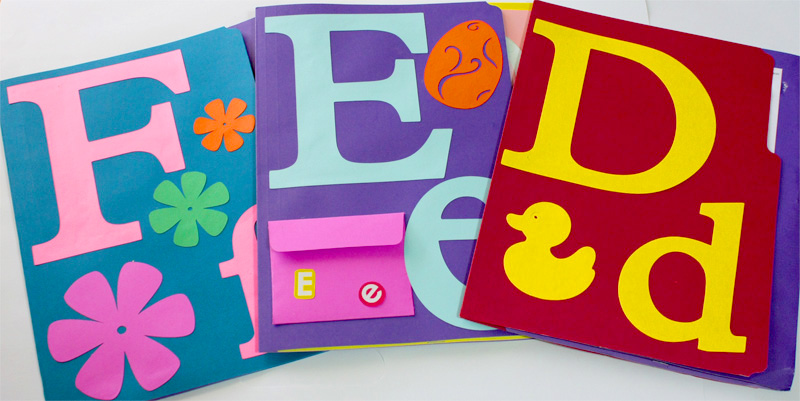 Lapbook Resources and Printables
I will be sharing our letter lapbooks in future posts over the coming weeks with direct links to the resources we used for each letter. For now, I thought you might enjoy browsing the web sites listed below (especially if you are a beginner like me).  For even more ideas and tutorials, visit my Lapbooks Pinterest Board – I hope to keep it regularly updated with new ideas and resources! (Contact me if you have an idea that should be included!)
The YouTube playlist below includes several videos on how to make lapbooks in different configurations.  And if you are new to the idea, you may also find this article helpful: Lapbooking – A Few of Your Questions Answered.
Printable Lapbooks, Lapbook Components, and Templates
Homeschool Helper Online – Dozens of free lapbook instructions and printables for core subjects and elective subjects.  Also includes a templates section.
Homeschool Share – Free lapbook ideas, printables and samples for all age groups.  Includes many lapbooks for storybooks including books listed in the Five In A Row studies.
Noggins & Nonsense – Printable PDF file of lapbook component (mini-book) templates with clear instructions.
Preschool Fireman Lapbook
Ocean Lapbook Printables and Example
More Sources To Explore
Free printables, mini-books, coloring pages, craft ideas for kids, and more….these sites are worth exploring for lapbook resources and educational materials!
Activity Village
Activities For Kids
DLTK Teach
Education.com
First School
Kaden's Corner
Mr. Printables
Scholastic Teacher Express
Super Coloring
Teachers Pay Teachers
Twisty Noodle
I hope this information is helpful!  Please comment below with interesting posts and sites you find!
---
Copyright 2013 Kathryn Depew
Disclosure: This post contains affiliate links and I will receive a small commission if you make a purchase after clicking on my links.
Related articles