Make a Paper Bag Book For The Mitten by Jan Brett ~ Instructions and Free Printable Pages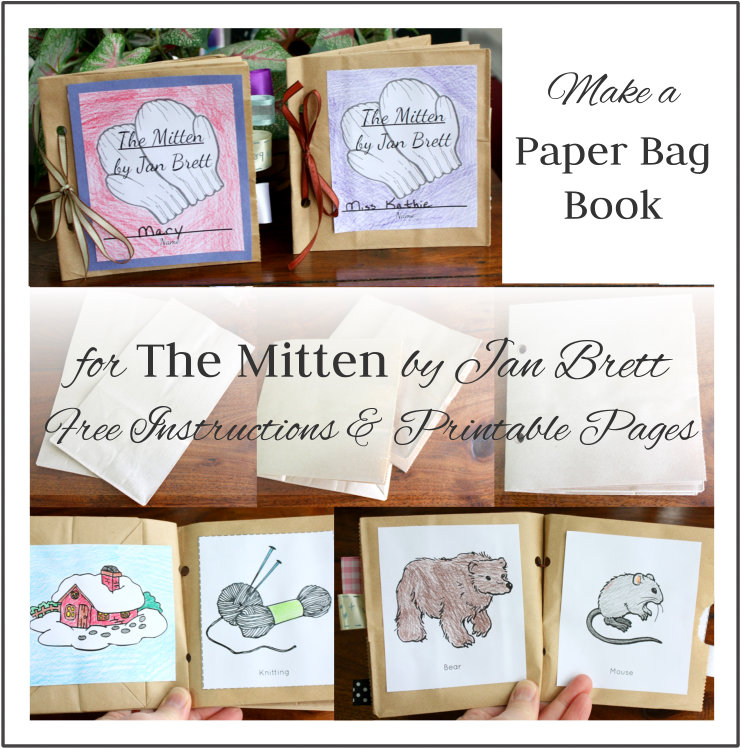 Mini-Books From Lunch Sacks!
One of our favorite books is The Mitten
by Jan Brett.  Animals…mittens…snow…kids love it!  I read it the other day to my homeschool coop class, then we made a paper bag book for our project.  All the kids really enjoyed the craft, and it was fun to see how they all made them a little bit different.  My class kids are ages 5 to 7, and they needed a little help tying the bows and stapling the ribbon pieces on the edges of the pages.
Although this is a very inexpensive project which requires only a few tools and materials, it is open to a wide range of creative possibilities!
Here are several more related posts you may enjoy:
You can subscribe to this blog to receive notifications of my most recent posts. Many more printables can be found on this site at this link. This craft was partially inspired by the Pumpkin Life Cycle Lunch Bag Mini-Book on TeachersPayTeachers.com.
Disclosure: I am an affiliate of Amazon.com
, and will receive a small commission if the links on this page are used to make a purchase.
Paper Bag Book for
The Mitten

by Jan Brett

You Will Need:
Lunch-sized paper bags (2 per book)
Hole punch
Yarn, narrow ribbon, or string
Wider ribbon scraps
Computer printer (black and white)
Printer paper (white or colored)
Crayons, colored pencils, or markers
Glue stick
Stapler
Construction Paper (optional)
For Preschoolers and Kindergarteners, I recommend using 2 lunch bags for a four-page book (to stay within their attention spans). They can use the front and back of each page plus the pockets, so the kids will have plenty of space for their coloring pages. You may want to make longer books with older kids. Allowing kids to cut out their own little pages is great scissor-practice, but to save time, you can cut out the little printable pages ahead of time.
Scroll down for free printable PDF instructions and coloring pages!
Pictorial Overview Of The Paper Bag Book

Winter Book Ideas
We love to read! Here are a few of our favorite Winter season books!
Free Printables
Just click on the thumbnail image to open and print! If the PDF files do not look right in your browser, open the document in Adobe Reader first, then print.
Terms of Use
These printables are provided at no cost for personal or classroom use. Print as many as you like! If you are linking to this blog post for a round-up type post on your blog, you are welcome to use the button image above in your post without contacting me for permission.

Restrictions: Please do not sell these documents or upload them to your web site or any other web site. If you would like to link to these printables, please link to this blog post and not the PDF files.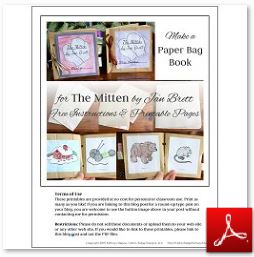 If you have enjoyed these printables, please let me know in a comment below!  Thank you for visiting Cotton Ridge Homeschool!
---
Copyright 2015 Kathryn Depew
Disclosure: I am an affiliate of Amazon.com
, and will receive a small commission if the links on this page are used to make a purchase.