Ideas For Preschool & Kindergarten – Getting Organized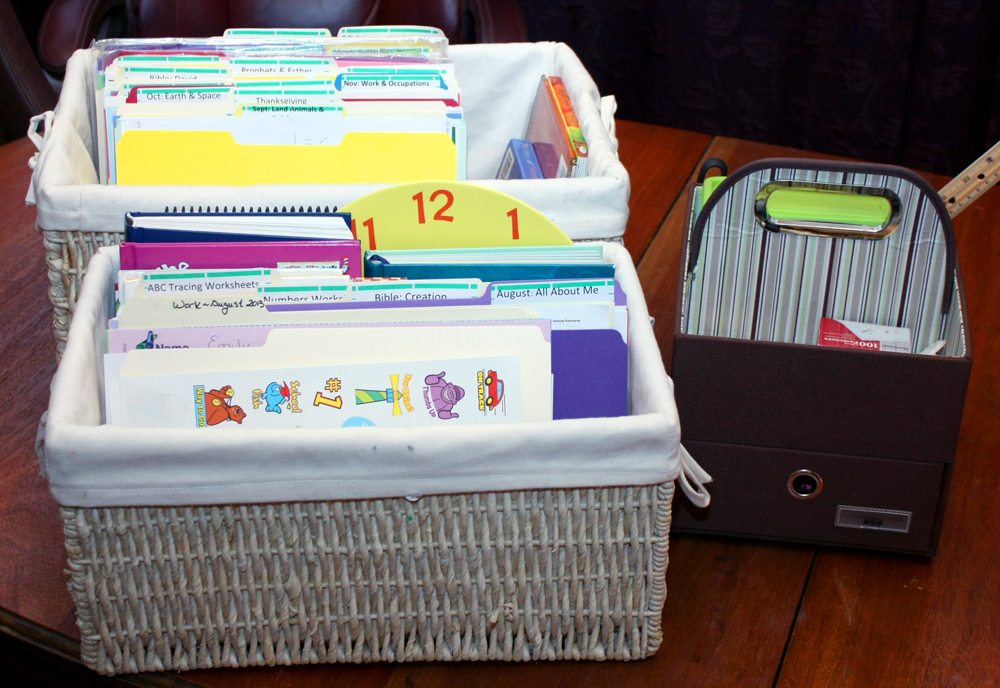 After some trial and error, I believe I have settled on a simple way to stay organized this year!  It's been a little time-consuming – at least during the "error" part.  But once I decided on a system, it went pretty smoothly.  When I had chunks of time here and there I worked on putting it all together, and now I'm about done!
This post is part of my series on Preschool Lesson Ideas For Homeschool – Plans For The Year.  Click on the link for an introduction and a complete list of preschool lesson ideas for the year.
Previously I've used a handwritten planner which helped me keep track of my plan and what we actually accomplished, but it became difficult to keep up.  (Many people use this method, and it may work for you –  I might try it again in the future!)  I've switched to an Excel spreadsheet and the three portable bins you see in the image above.  In this post I'll give a brief overview in hopes that it will help someone else get their curriculum under control!
Start With A Plan
In the Excel
spreadsheet (shown above – click on the image for a larger view) I created a column for each month of the school year. The themes for the month and subjects are listed underneath, with spaces for the activities for each subject.  As I find related items in printed materials (such as workbooks) or on the internet, I type it in the appropriate spot. This helps me keep track of where I am in the planning process, and see if I am lacking in a subject or theme.  You can create a hyperlink in the spreadsheet for items found on the internet – so when you are ready for the activity, you can click on the link right in the spreadsheet to go to the web page.
If you prefer writing your plans by hand, you may be interested in my free printable lesson plan charts in a variety of themes.  Just click on the thumbnails below to open the documents and print.

Filed Away
After I decided on the themes and Bible lessons for each month, I labeled file folders for each one. As materials were found in workbooks or printed off the internet, I dropped them in the appropriate file. It was important to me that the storage for our homeschooling materials was portable and relatively easy to put away, since we can't leave it out all of the time.
The smaller basket holds our curriculum for the current month:
The month's theme file(s)
Bible lesson file
Finished work file
Related books to read
Plus items that will stay in this basket all year:
Bible story books
ABC and 123 tracing worksheets
Reward stickers
Dr. Seuss foam clock for learning how to tell the time (found at Target for $1.00!)
Planning Ahead
The larger basket holds the files for the remaining months of the school year.  If paper crafts require cutting skills beyond preschool, I try to cut them out in advance. (You don't have anything else to do, right?  I usually do work like this in while watching TV!)
Remember, any unused materials can be saved in the labeled file folder for kindergarten.
Supply Caddy
I confess, I found the JJ Cole Collections Diaper Caddy
at a kids' consignment sale (practically new) for $5.00!  It is a perfect portable school supplies
caddy.  The side pocket holds scissors, safety scissors, a ruler, and a hole punch.  The little drawer on the other side is perfect for crayons.  The inside compartments hold the colored markers box, tape, glue dots, tacky glue, paper fasteners, and other things that we use on a regular basis in our little preschool.  It is very sturdy and has lasted at least a year (so far)!
I hope these ideas give you some inspiration while getting organized for your homeschooling year!  As we go along I'll update this post with any brilliant new thoughts I may come across.  Please feel free to comment below with yours!
---
Copyright 2013 Kathryn Depew
Disclosure: I am an affiliate of Amazon.com
and will receive a small commission if the links above are used to make a purchase.  However, I only recommend products and companies that I believe will benefit my readers.  My opinions are entirely my own and may differ from yours.
Related articles