Kindergarteners Go Around The World: Week 28 ~ Conclusion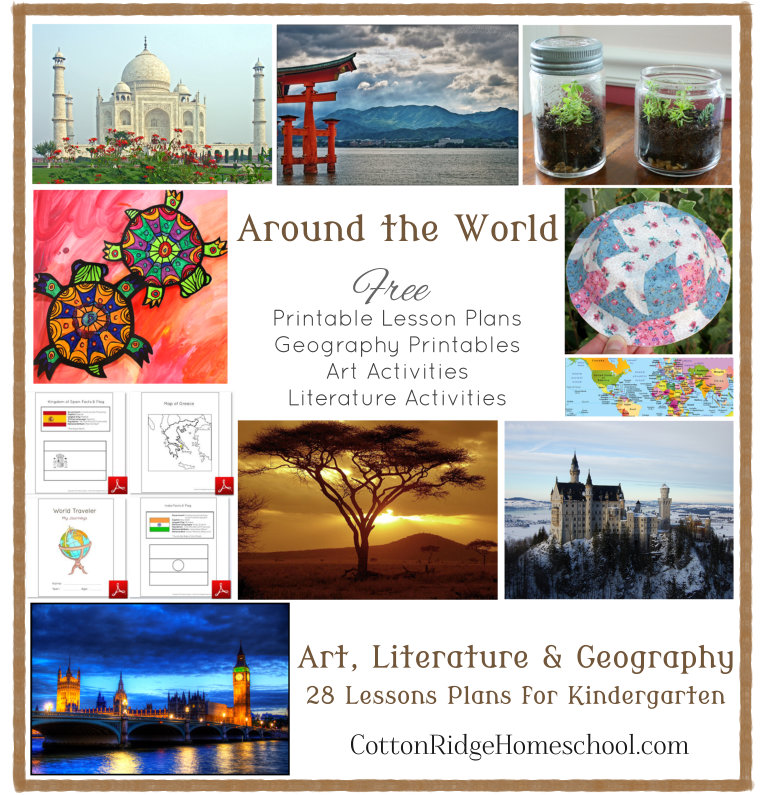 We made it!  In this post are several ideas on how you can wrap up your trip around the world.  Hope you and your kids enjoyed the journey!  Please comment below with any ideas you may have that will inspire the rest of us!
This post is part of the series "Around the World in 28 Weeks: Art, Literature & Geography Lessons for Kindergarten." For an introduction, printable lesson plan grid, overview of the entire course, and links to more lesson plans, please click here.
Disclosure: The books and supply links below lead to products on Amazon. I am an affiliate and will receive a small commission if these links are used to make a purchase.
Week 28 Lesson Plan
Destination and Play Passport
Country:  Return home
Pretend Passport: Please see Week 2 for suggestions on how to use the Play Passports
during your lesson.  Below are free printable Passport Stamps, Airline Tickets, and Cruise Ship Tickets. Just click on the thumbnails below to open and view. For best results, download to your computer or open in Adobe Reader before printing.
Reading (10 – 15 minutes)
Story: Where Do Balloons Go? An Uplifting Mystery
by Jamie Lee Curtis
Discussion: Ask questions to determine reading comprehension; tailor these to your children's ages and abilities. Depending on the size of your class and as time permits, try to allow each child to participate. Don't drag this part on too long or your kids will lose interest. Here are a few to get you started:
Geography (5 – 10 minutes)
Globe or Wall Map Activity: With your class, find your home country and city.  Briefly review the countries you've visited.  Ask your kids which country was their favorite (you may need to remind them of the book and/or the project that went along with each country).
I have been allowing the kids to take turns putting colored dot stickers
on the country we visit on our wall map each week. They have really enjoyed this little extra!
Art (30 – 40 minutes)
Make Teacher Thank You Cards
I have several fellow teachers that volunteer in our coop class – I teach one hour, and they each teach during the one of the other two hours.  I thought it would be nice for the kids in my class to wrap up the year by making thank you cards for their coop instructors – and for their Moms who teach them at home!
You could add a little extra such as a Sharpie Pen
, pencil, or an apple to make it into a small thank you gift.
You will need:
Instructions: Decorate blank cards or folded card stock paper with markers, crayons, colored pencils, stickers, rubber stamps, glitter glue, or whatever you please.  Help the kids write "thank you" messages in the cards, or use the free printable Gift Tags below.  You could also use a Thank You rubber stamp
or stickers.  Add a new pencil, pen or apple to each card if desired.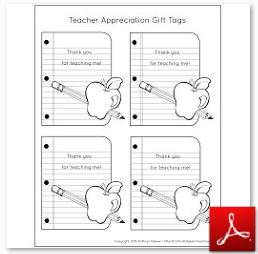 Alternative: 
Make teacher appreciation gifts – see lots of ideas on my Teacher Gifts Pinterest Board.
Other Activities
Following are a few more ideas to help you celebrate the end of your journey!
Supply Lists
General Supply List
Week 28 Supply List
Week 28 Art Supply List
---
Copyright 2015 Kathryn Depew
Image of Apple flickr.com used under the Creative Commons license. Image credit: Catrin Austin. Image of hot air balloon from flickr.com used under the Creative Commons license. Credit: R'lyeh Imaging.