Introduction To The Little Passports World Edition Subscription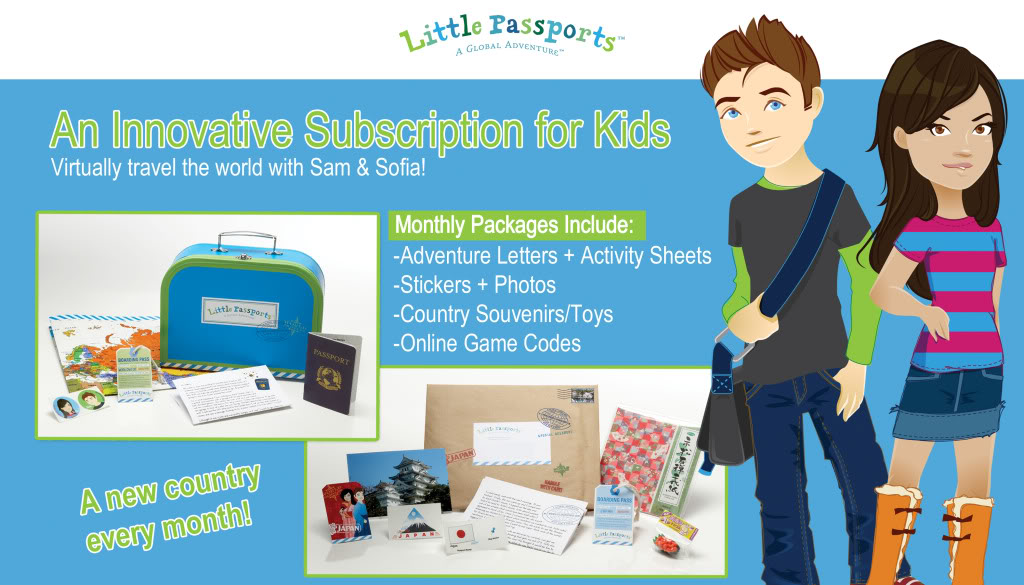 Little Passports World Edition
A few days ago I was excited to find a box on my front porch from Little Passports.  They had sent me their Explorer Kit from the World Edition subscription to review!  What fun!  My daughter is going to love the suitcase, wall map, and passport!  I'm saving it for her until she reaches the recommended minimum age of 5.  I was tempted to give it to M now because I think she'd enjoy pretending with the suitcase and looking at the map (she loves maps).  But the remaining activities included are a little above her age level.  I predict that the Little Passports subscription will be a valuable addition to our homeschooling curriculum – what a fun and creative way to introduce M to the culture of countries around the world!
Little Passports is a San Francisco-based company founded by two moms wanting to design an inspiring and fun way for kids to learn about other countries and the 50 states.
The recommended age range for the World Edition is 5 to 10 years old.  Every month, globetrotting friends characters Sam and Sofia visit a new country and send your child an exciting package in the mail!  24 different global adventures are available, and subscription prices range from $10.95 to $13.95 per month plus shipping.  (For example, a three-month subscription costs $41.85 plus $12.00 shipping;  six-month, twelve-month, and monthly plans are also available.)
More Details
When you sign up for a Little Passports World Edition subscription, your child will receive the Explorer Kit the first month.  It includes:
Small suitcase (includes an introductory letter from "pen pals"  Sam and Sofia)
World wall map (very nice quality and easy to read)
Travel passport (fill with personal information and stickers from global adventures)
Stickers and Activity sheet (fun math and logic questions, and more)
Access to online games and activities (with the boarding pass)
Then, each month your child will receive a package in the mail filled with:
Adventure letters from Sam and Sofia
Fun souvenirs related to that month's featured country
Stickers for the suitcase, passport and map
Activity Sheets and Photos
Boarding Passes to access more online games and activities
USA Edition
Little Passports also offers a USA Edition, recommended for ages 7 to 12.  Sam and Sofia travel to two states per month and send packages to your child related to those states.  So, the fun doesn't have to stop after your child has completed the World Edition!  Find out more about the USA Edition at this link.
Little Passports could be a fun and educational addition to your child's homeschooling curriculum or after-school time.  Also, what a great way to spend summertime hours when it's too hot to play outside!
Disclosure: I am an affiliate of Little Passports and will receive a small commission if the links above are used to make a purchase.  Nevertheless, my opinions are 100% my own, and I only recommend companies and products that I believe will be of benefit to my readers.