"Curriculum" For Two Year Olds
I'm not sure I would actually call these materials "curriculum" for two year olds.  We are quite unstructured right now and play with these when we are in the mood!  These are fun activity books to help two year olds learn some basic skills: letters, numbers, colors, animals, sounds, pasting, cutting (well, sort of), taping, etc.
We also have piles of books to read around the house: in baskets, on shelves, stacked on chairs… Look for inexpensive children's books at yards sales, consignment sales, used books stores, library and school sales, and especially thrift stores.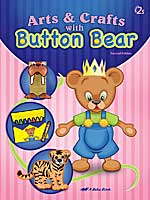 Arts and Crafts with Button Bear—New Edition (A Beka Books)
Simple, full-color crafts. Includes general, seasonal and Bible Story crafts. Lots of fun! You need some supplies including glue, scissors, brads, yarn, crayons, paint, etc. Instructions are given on the page of the crafts.
"Designed for two-year-olds, this book gives preschool children delightful opportunities to enjoy art as they develop motor skills. Contains a variety of projects which introduce young children to basic art and craft concepts, while it correlates with the seasons and holidays. Includes 40 projects."
Let's Sticker & Paste! (Kumon First Steps Workbooks)
This was a fun little book we found at Costco.
"In this book, children first learn to place stickers onto colorful backgrounds to make lively scenes. As they make their way through the book, children develop fine motor control and spatial reasoning skills by pasting paper parts and objects on to designated spots in order to complete fun art projects."
Let's Cut Paper! (Kumon First Steps Workbooks)

Another little activity book we found at Costco. Still working on this one…
"Learning to safely use a pair of scissors is an important part of preparing for school. This workbook is for children who have never used scissors before. Children will learn how to hold and control a pair of scissors, and will advance from simple one-stroke cuts all the way to cutting complicated curved and zig-zagged lines and shapes.
Ages 2 and up."
My Giant Sticker Work Book (with CD)
Two years old is a little young for all of the activities provided in this book, but we loved the stickers! Good for practicing motor skills (placing the stickers in the right place) and for learning letters, numbers and new words.  Also includes a CD with hundreds of pictures to print, color or e-mail – I haven't used this yet, but it's kind of neat.
---
Copyright 2012 Kathryn Depew
Related articles