The NKJV Study Bible For Kids ~ Book Review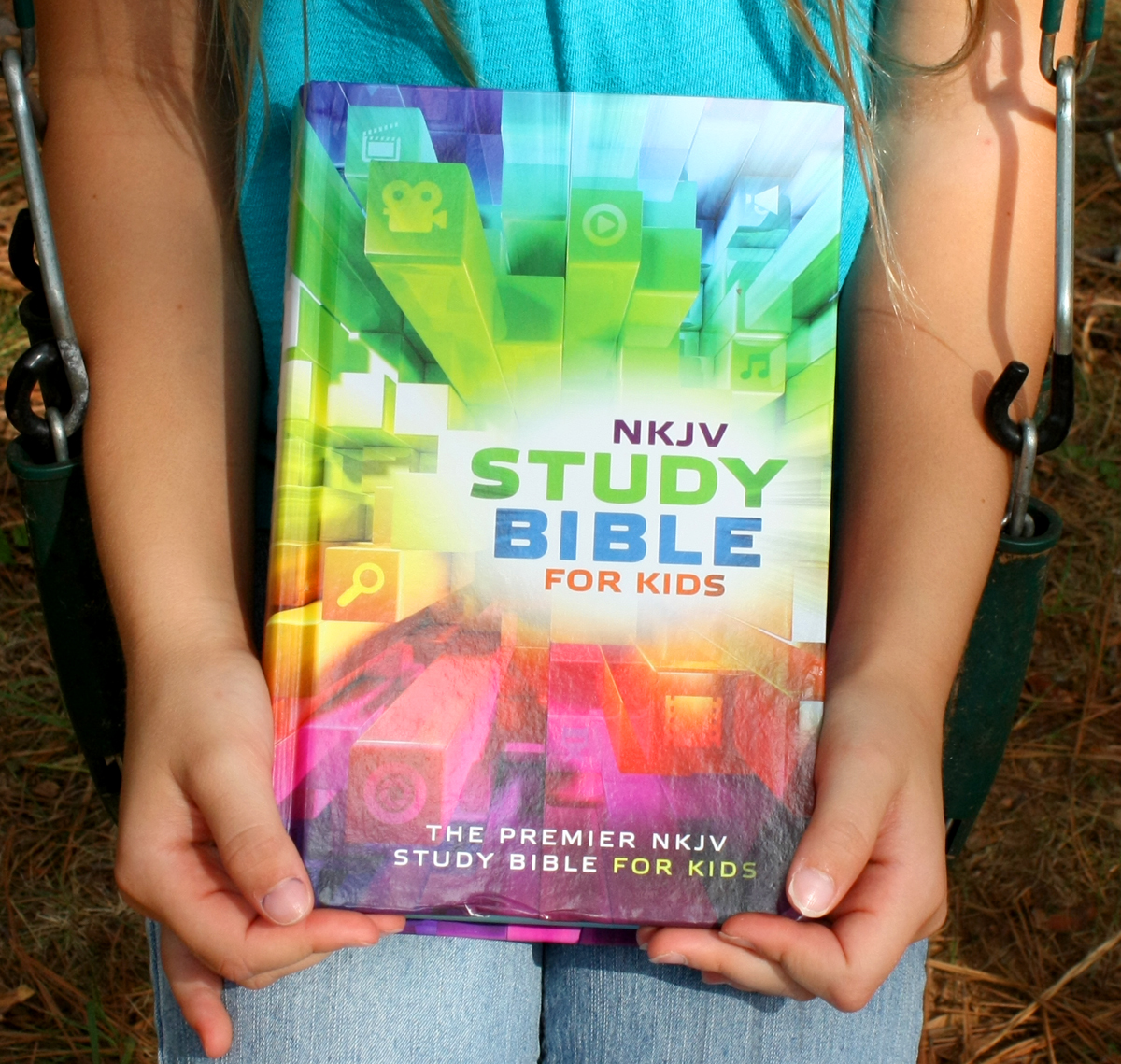 The October resources from Tommy Nelson are here!  Each month my daughter and I look forward to our book package, and this month's books did not disappoint.  Below is my review of the NKJV Study Bible For Kids.  In October look for the reviews of Win or Lose, I Love You! and the Precious Moments 5-Minute Treasury.  (A big thanks to my nieces who helped us with our photo shoot this month!)
Disclosure: I was not compensated for this post, but was given a free book to review. I am an affiliate of Amazon
, and will receive a small commission if a link on this page is used to make a purchase.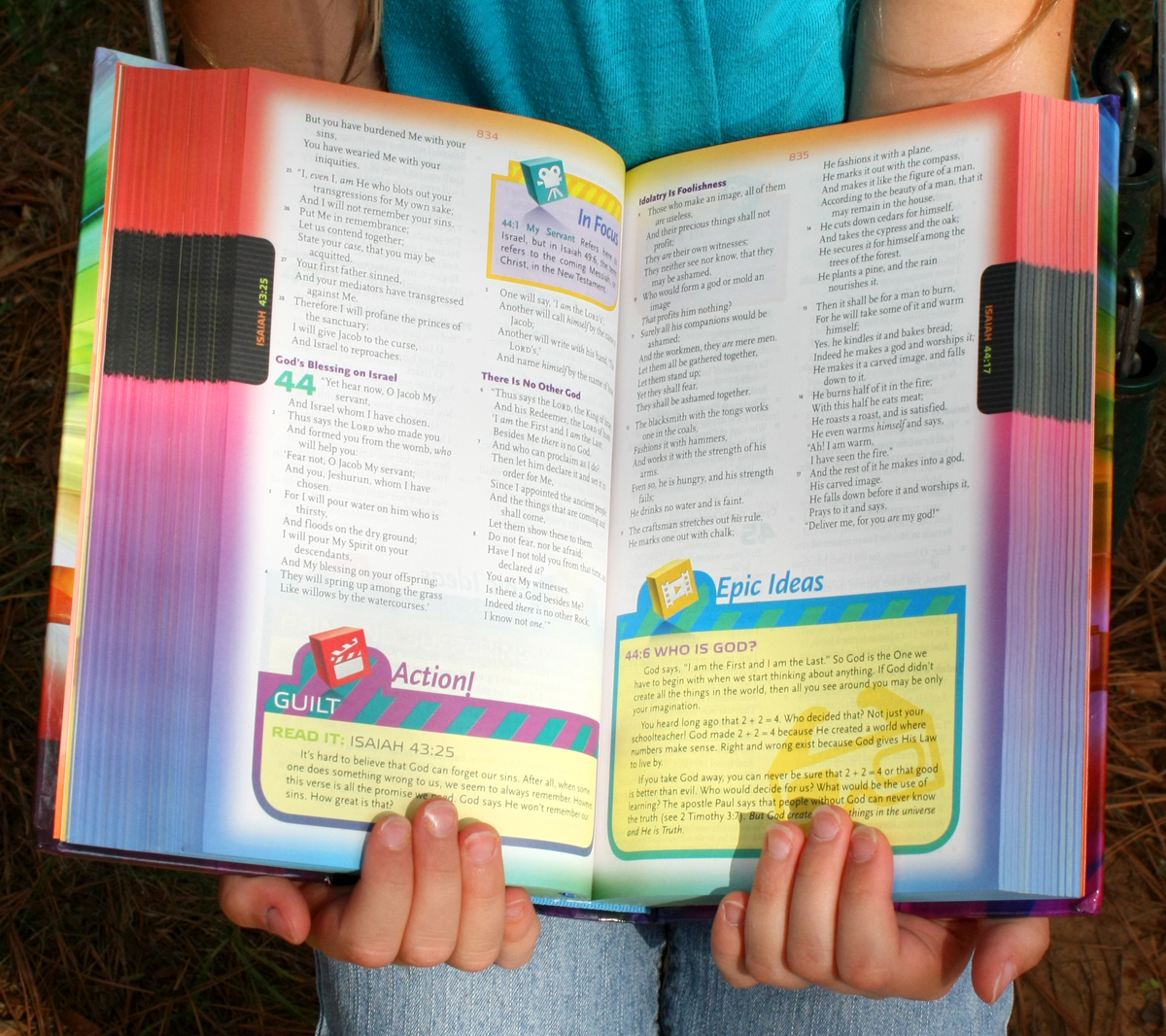 I am very impressed with the NKJV Study Bible for Kids.  Designed for kids ages 6 – 10, it has many features that can make studying the Bible interesting and engaging for young readers. Colorful call-out boxes highlight important concepts and information:
Book Introductions
Timelines
Maps
Story Spotlights
Character Profiles
Action Items
Epic Ideas
These highlights occur often throughout the text and contain interesting facts, ideas, important themes, and ways to apply the passage – all which can make reading the Bible more understandable and therefore more meaningful. This Bible also includes a Dictionary/Concordance and Articles Index for easy reference.
The NKJV Study Bible for Kids would be great for both personal and group Bible study.  If you are a small group leader or Sunday School teacher of 1st – 5th Graders, consider using this edition of the NKJV.  The call-out boxes mentioned above will give you plenty of ideas for discussion questions!  My personal favorites are the Timelines and Maps, but I enjoyed reading some of the "Starring Roles" boxes (character studies) too, and the book introductions are really helpful.
Purchase Information
NKJV Study Bible For Kids is recommended for children years 6 – 10 years old, and is available to order at this link
. Currently priced at $20.04 (at the time of this post), this is a very nice quality hardback book with ribbon bookmark. (List price $26.99.)
Giveaway
Tommy Nelson publishers has generously offered one of my readers a copy of NKJV Study Bible for Kids
!
The giveaway is open to U.S. residents and will run through midnight on October 11, 2015. Must be at least 18 years old to enter. The winner will be contacted via email and will have two days to claim the prize. If unclaimed, a new winner will be drawn. The winners' entries will be verified. Please enter the contest using the Rafflecopter form below. All entries are optional.
Thank you for visiting Cotton Ridge Homeschool!
---
Copyright 2015 Kathryn Depew (except publisher's image).
Disclosure: I was not compensated for this post, but was given a free book to review. I am an affiliate of Amazon
, and will receive a small commission if a link on this page is used to make a purchase.
---