Geography Fair Ideas For Young Students and Free Virginia Printables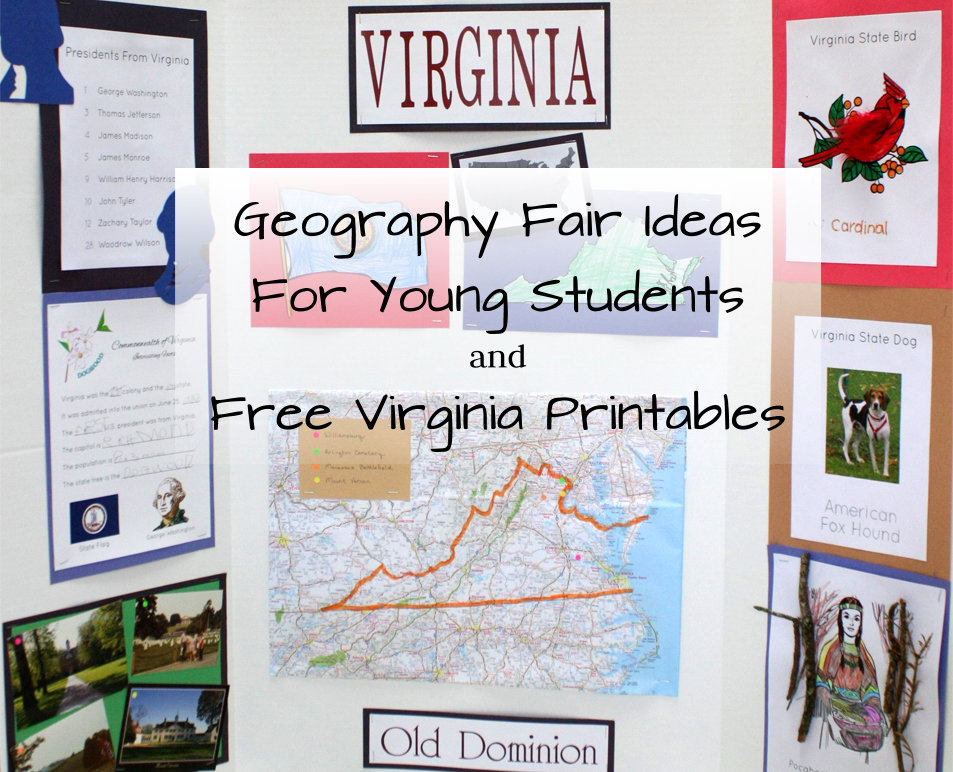 My daughter participated in her first Geography Fair last month; at five years old, my main goal was that she learn a bit about the state we chose, and have fun!  I didn't want to take over the project and do everything for her, either.  However, a pre-kindergartener is obviously going to need some help!  I believe we achieved a good balance.  She helped with everything we put on the board, even if it was only being in charge of the stapler!
Resources
Friends gave me several good ideas:  1. The internet, of course and 2. Books: from the local library, your own bookshelf, and used book stores. If a book is cheap enough, you can even cut out pictures and maps from it for your display board.
3. Souvenirs and Other Items: We looked around our house for items from Virginia – I had several around, since I had lived there for several years.  A friend of mine was over while we were in the midst of this project, and I also happened to be going through several boxes of my Mom's things.  She loved history and travel, and had several books and travel-related items among her stuff. I was bemoaning what to do with it – I didn't want to throw it out, but didn't know where to keep it – when she mentioned that she kept bins or boxes of things that she could use to homeschool her children, organized by subject.  A light bulb went off in my head, I immediately labeled a box "Geography and History Stuff," and placed several of my Mom's travel scrapbooks and other things in it.  I'm happy.  My Mom would be thrilled!
Disclosure: A few of the links below lead to products on Cricut and on Amazon. I am an affiliate of both and will receive a small commission if these links are used to make a purchase.
After we read about Virginia on the internet and in books from the library, we started working on the project.  Starting with an inexpensive cardboard display board from a craft store, we added construction paper to add some color.
Left Side
1. Presidents From Virginia: To create your own, use the free printable below, and add cut-outs of George Washington and Thomas Jefferson.  I used my Cricut machine and the My World Cartridge
.
2. Commonwealth of Virginia Interesting Facts: Read with your child about the Commonwealth of the Virginia on the internet or from a book from the library. Use the free printable below, and have your child write in the answers.
3. Photos and Postcards: I lived in Virginia several years ago, so I dug out my old pictures and postcards to find some images – it brought back some memories!  The colored dot stickers
on the pictures match the dots on the map in the center of the display board, as well as the list of cities.
Center
1. "Virginia" and "Old Dominion" Signs: Printable is below.  We matted them on black construction paper.
2. Virginia State Flag: Have your child color the flag, cut out, then glue to construction paper.  Printable is below.
3. Outline Maps of the United States and Virginia: Color the map, then cut out and glue to construction paper.  Printable is below.
4. Virginia State Map: Our local AAA office gave the map to us at no cost since we are members.  You could also print a map from the internet, or cut one from an old book.  We used colored dot stickers
to mark the cities on the maps that matched our pictures and postcards, then I wrote out the cities on a card and attached it to the map.  My daughter was in charge of the dots!
Right
1. Virginia State Bird: Cardinal: Print out the free printable below, then have your child color the cardinal and trace the word.  My daughter glued on a red feather.
The file with the black and white cardinal also includes a full-color version to print out if you wish.
2. Virginia State Dog: American Fox Hound: Print out the PDF below, then trace the words.
3. Pocahontas Coloring Page: Included below is a printable with the phrase  "Pocahontas lived in Virginia. 1595 – 1617"  I couldn't find a copyright-free coloring image of Pocahontas to include in this post, so the rest of the printable page is blank.  However, you can easily find Pocahontas coloring pages on the web to paste on the page.  The one we found had trees in the background, so my daughter glued on twigs from our front yard.
Additional Activities
We took along a few extra items to the Geography Fair to display on our table with our board:
Virginia Agriculture: My daughter and I read about crops and other agricultural products grown in Virginia.  She happens to have a large play food supply, so while I read the list aloud, she found the items in her play kitchen that matched and put them in a basket.
Historical Item: I have a letter seal and sealing wax from a long-ago visit to Colonial Williamsburg, so we made a pretend letter and she helped me seal it.  I explained that this was the way letters were sealed way back when.
Souvenirs: We found souvenirs that I had saved from Colonial Williamsburg and elsewhere in Virginia.  I also had some of my Mom's and Grandma's flyers, books, and postcards from Mount Vernon and Williamsburg.
Food: We took Woodlawn Ginger Cakes (molasses cookies) that we made from a recipe I received from a Woodlawn Plantation visit long ago.
Too Young?
Some may consider a five-year-old too young to participate in a fair like this, but our homeschool group welcomed everyone. She had a great time playing the games and eating the food from all of the different states represented!  We had some wonderful Mommy-Daughter time learning about Virginia, and she remembers many of the things she learned while putting her display board together.
If you have the opportunity, I would recommend participating in events like these, even with your younger students.  It's a great way to learn with hands-on activities, and a valuable addition to books and worksheets.
Free Printables
Click on the thumbnail image to open and print! If the PDF files do not look right in your browser, open the document in Adobe Reader first, then print.
Terms of Use
These printables are provided at no cost for personal or classroom use. Print as many as you like! If you are linking to this blog post for a round-up type post on your blog, you are welcome to use the button image above in your post without contacting me for permission.

Restrictions: Please do not sell these documents or upload them to your web site or any other web site. If you would like to link to these printables, please link to this blog post and not the PDF files.
Here is one last look at our completed board!  Hope you have as much fun as we did!  Please feel free to leave a comment below with your suggestions for Geography Fairs.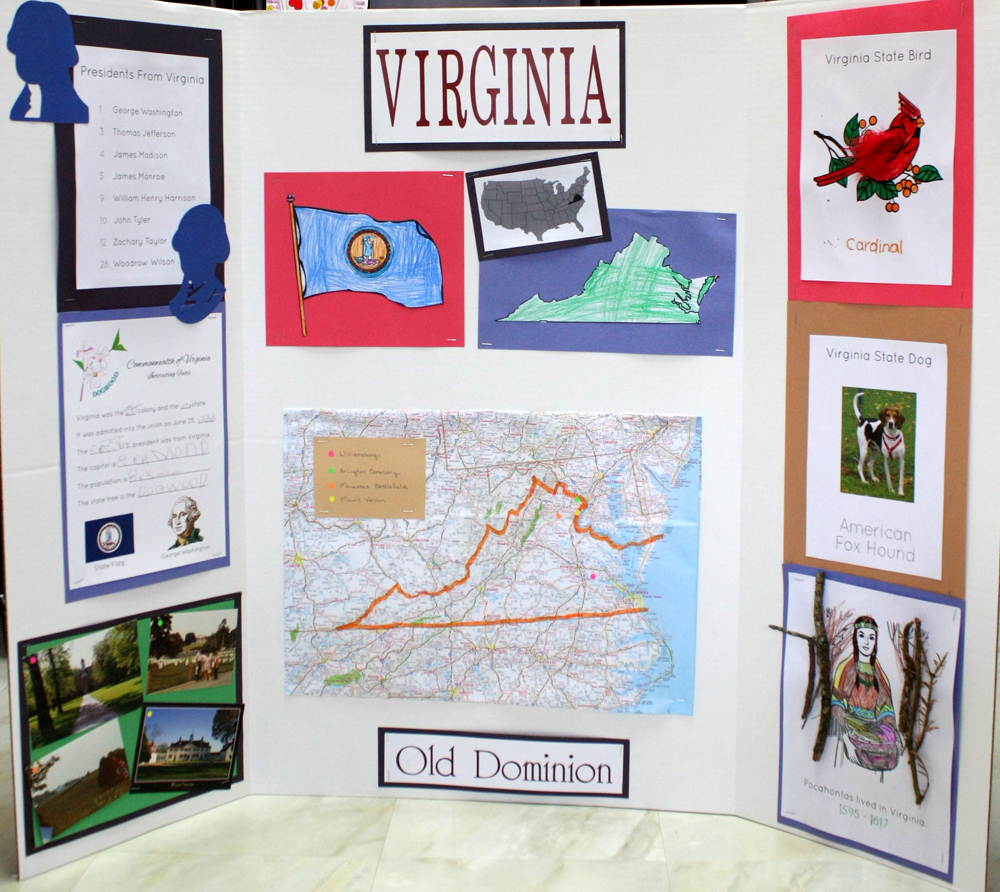 ---
Copyright 2015 Kathryn Depew
Disclosure: A few of the links below lead to products on Cricut and on Amazon. I am an affiliate of both and will receive a small commission if these links are used to make a purchase.