Brave Girls Bible Stories ~ Children's Book Review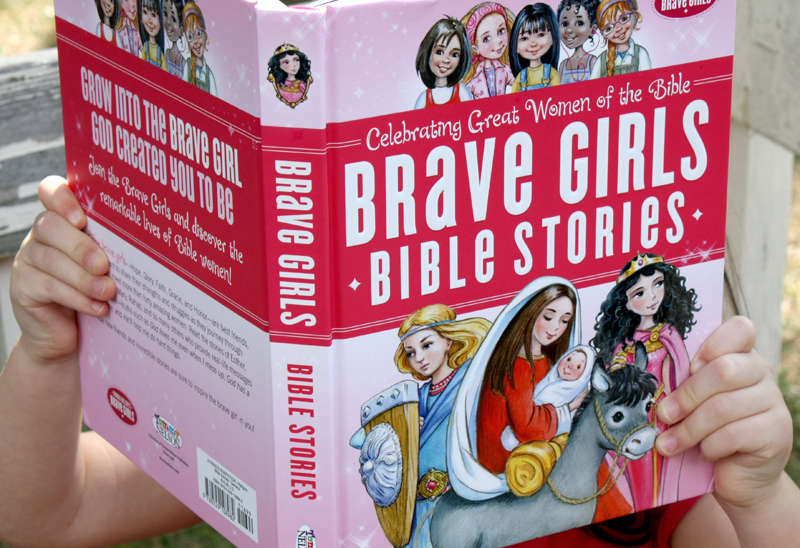 Celebrating Great Women of the Bible
Disclosure: I was not compensated for this post, but was given a free book to review. I am an affiliate of Amazon
, and will receive a small commission if a link on this page is used to make a purchase.
My little preschooler was drawn to the Brave Girls Bible Stories
book immediately. As soon as I opened the package from Tommy Nelson, she practically pounced on it.  The cover is pink all over!  I believe almost any girl in the preschool through early elementary grades would be interested in what was in this book.  M wanted to know "who are those girls?"  Whoever designed this cover knew how to appeal to little girls!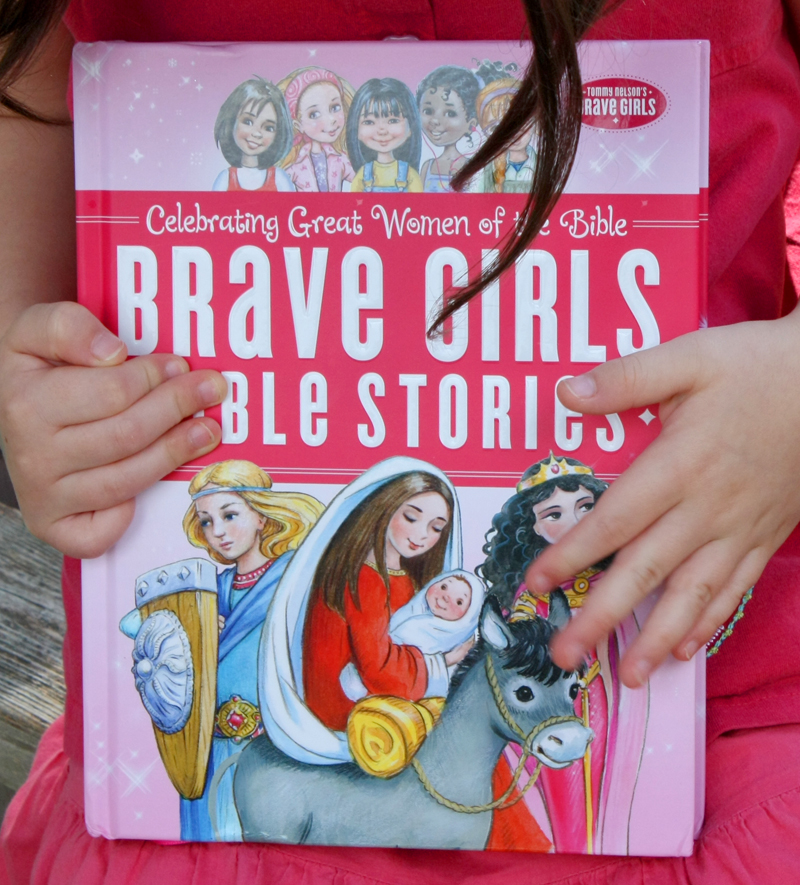 M pointed to the woman with the crown and asked to read about her.  So, we flipped through the book and found the picture, and it turned out to be about Queen Esther.  There was an introduction by one of the "modern" girls, Glory, and the Bible Story itself was a brief four pages, accompanied beautifully with visually appealing illustrations.  Glory also concluded the story with a contemporary application. My daughter sat very attentively throughout.
We've read several stories since then.  The illustrations prompt her to ask to read "that one next! Just one more, please?"  I have been greatly impressed by her continued enthusiasm for this Bible story book.  There are some books which are enjoyed once or twice, but once the curiosity has been satisfied and the story has been read, interest wanes.  Not so with Brave Girls.  There are 206 pages, 31 stories, plus mini-biographies of each of the modern girls to read.  If you are looking for a long-lasting gift, consider this book – my daughter and I highly recommend it!
Peer Influence
Peers have such an influence on kids, even if they are just characters in a book!  I appreciate how each story is accompanied by thoughtfully written introductions and applications from one of the five different modern girls.  They write in language easily understood to a little girl of this era.
The Stories
If you are looking for a particular Bible story, sometimes it's a bit difficult to find it in the index.  Instead of Biblical titles, the stories are listed in more descriptive terms such as "Picture Perfect", "The Game Plan", and "The Truth Keeper".  It was pretty obvious that "One Brave Beauty Queen" is the Queen Esther story, so that was easy to find when we wanted to read it a second time!  The stories are also in Biblical order, so that is a help.  I love how stories of the more obscure women like Jael are included, along with the famous.
I've had to soften some of the wording for my four-year-old; although I don't want to "water down" the message, some of the violence in  Bible Stories is a bit much for a preschooler in my opinion.  I believe she can get the point of the story even when I leave out the graphic parts.  The stories in this book should be fine unedited for older girls.
Extras
At the back are the book are a few "extras" for your brave little girls.  Included are Brave Verses and a quiz: "Which Brave Girl Are You Most Like?"  Coming in Spring 2015 are Brave Girls devotionals, and in the Fall of 2015, a Brave Girls Bible.
Letter To Parents
A letter to parents from the Tommy Nelson team about the new Brave Girls brand.  Just click on the thumbnail to view, download, and/or print.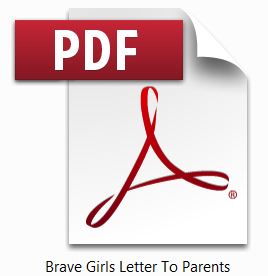 Purchase Information
Brave Girls Bible Stories
is recommended for children ages 4 through 8, and is available to purchase at this link
. Priced at $14.04 (at the time of this post), it is a very nice gift-quality hardback book. (List price is $16.99.)
If you would like to preview the book online, please scroll down on this post below the giveaway form to "flip" through it.
Giveaway
Tommy Nelson publishers has graciously offered one of my readers a copy of the book Brave Girls Bible Stories
! The giveaway is open to U.S. residents and will run through midnight on October 23, 2014. Must be at least 18 years old to enter. The winner will be contacted via email and will have two days to claim the prize. If unclaimed, a new winner will be drawn. The winners' entries will be verified. Please enter the contest using the Rafflecopter form below. All entries are optional. Thank you for visiting Cotton Ridge Homeschool!
Brave Girls Bible Stories by ThomasNelson
---
Copyright 2014 Kathryn Depew (except publisher's image).
Disclosure: I was not compensated for this post, but was given a free book to review. I am an affiliate of Amazon
, and will receive a small commission if a link on this page is used to make a purchase.