Sensory Play Ideas For Young Learners ~ My Sensory Box Subscription Review
Disclosure: I was not compensated for this post, but I received a complimentary sensory box to review.
This afternoon my preschooler was quite excited to find a package in the mailbox.  She was even happier to open it and discover a box full of little toys and goodies for her from My Sensory Box!  The little yellow ball caught her attention first, and we tossed it back and forth for a few minutes.  Then it was time to explore the rest of the box!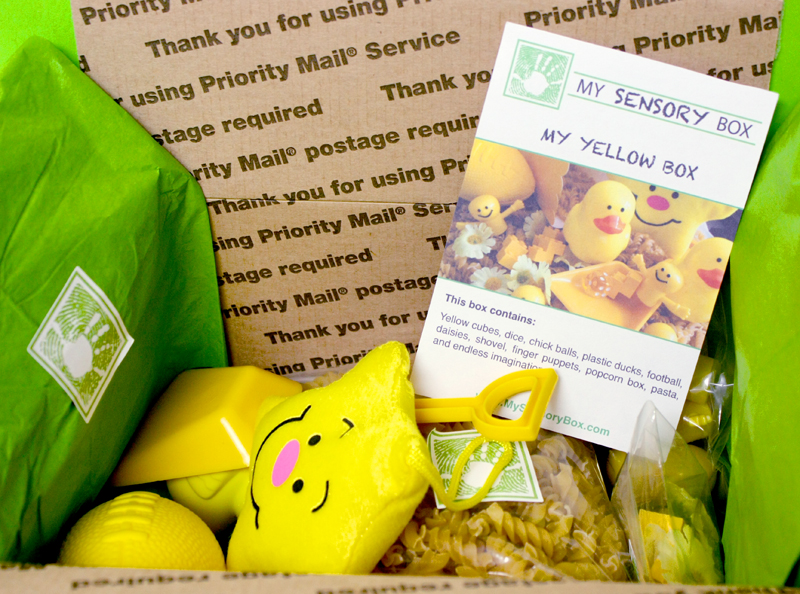 Educational and FUN
If you hadn't noticed from the pictures, the theme for this month's box is the color yellow!  Just in time for Spring!  We had fun getting out all of the little toys and playing the games on the enclosed card, and making up several of our own!  Here are some of the games we played:
How many of the yellow items can you name?
Count how many scoops of pasta will fill the popcorn box.
Roll the die and count the dots, then count out that many LEGO blocks.
Put various objects inside the duckies. (Yes, they open like plastic Easter eggs!) Use them for shakers (my daughter came up with this one.)  Notice how they sound different depending on what is inside.
Stack all the LEGO blocks and compare them to other objects: is the stack of blocks taller or shorter than the ducky, the popcorn box, the bowl, etc.?
Make an obstacle course out of the objects for a toy car.
See how many times you can toss the little balls into the popcorn box. (Fill half full with pasta so it won't tip over.)
Count the flowers.  Put the flowers into two equal rows and count again. (Helps visualize that 5 + 5 = 10.)  Then do the same exercise with the LEGO blocks.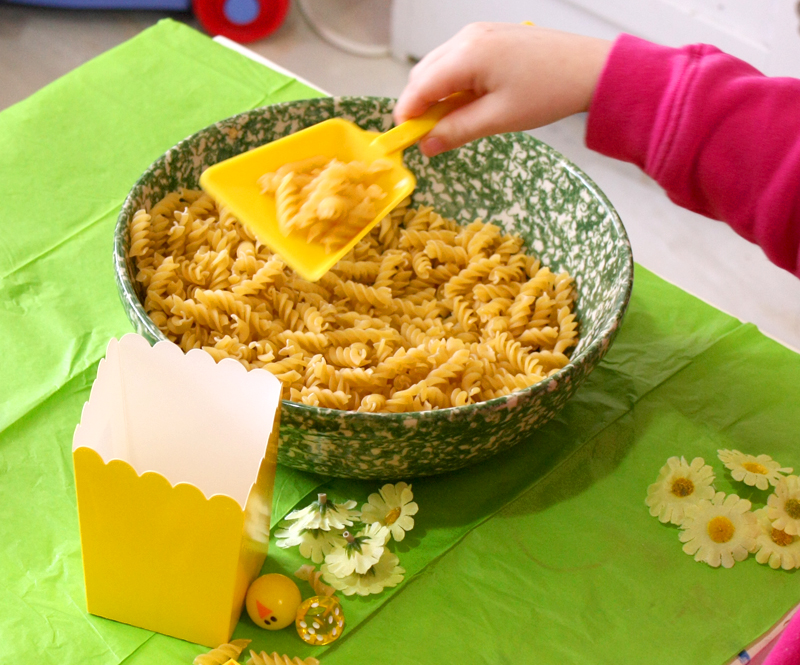 Sensory Play
I've noticed the term "sensory play" in the books and blogs I've read since becoming a Mom.  Although I don't have an Early Education degree (mine is in Accounting), it always seemed normal to me that children learn better by doing something, rather than just sitting and listening (although this is good for them, too).  I teach preschool Sunday School now, and also taught the same age in my mid-twenties (twenty-something years ago). Then as now, we offer crafts and activities related to the Bible story for the preschoolers to do.  It not only reinforces the facts and concepts learned, but helps keeps their attention during most of the class.  This always made sense to me, although I didn't know to call it "sensory play".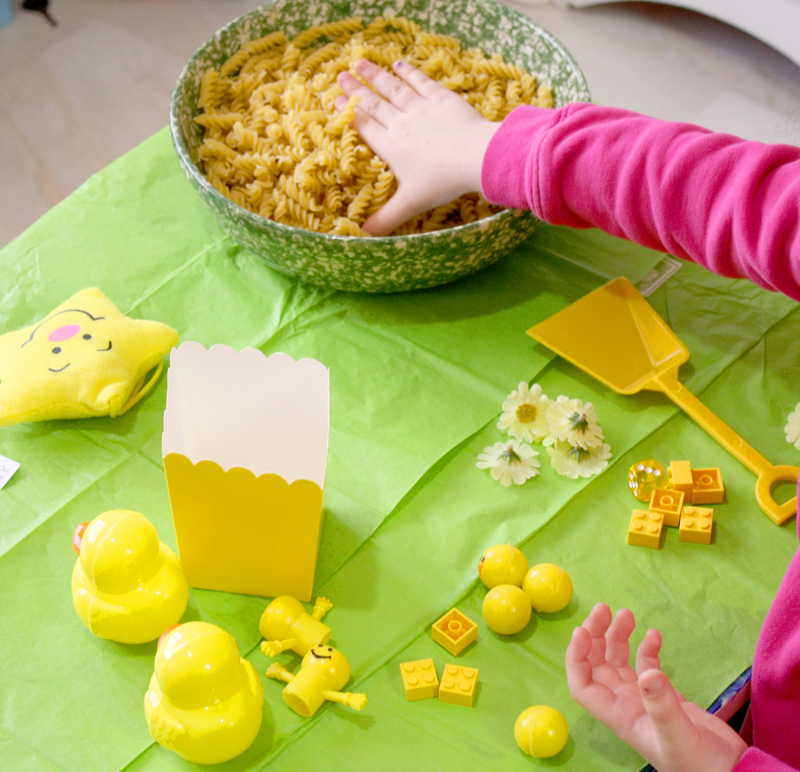 These days, it's wonderful to have all the resources available specifically for young learners' sensory play.  Search on the internet, and you will find wonderful Pinterest boards and blogs with great ideas.  I never have put a box or tub together full of sensory toys, but I do let M explore my drawers and shoe boxes full of craft supplies!  If you are looking for a great article on sensory play, you may find this article by Amanda Morgan of notjustcute.com helpful: A Handful of Fun: Why Sensory Play is Important for Preschoolers.
I really was delighted along with my daughter to find the My Sensory Box in the mailbox – I think I had as much fun as she did while we played, counted, and sorted.  I love the look on her face when she discovers something new!  And, the toys and other objects can be used again and again.  The folks at My Sensory Box designed each subscription box to fill a 12 quart-sized plastic storage bin, and I will most likely follow this suggestion.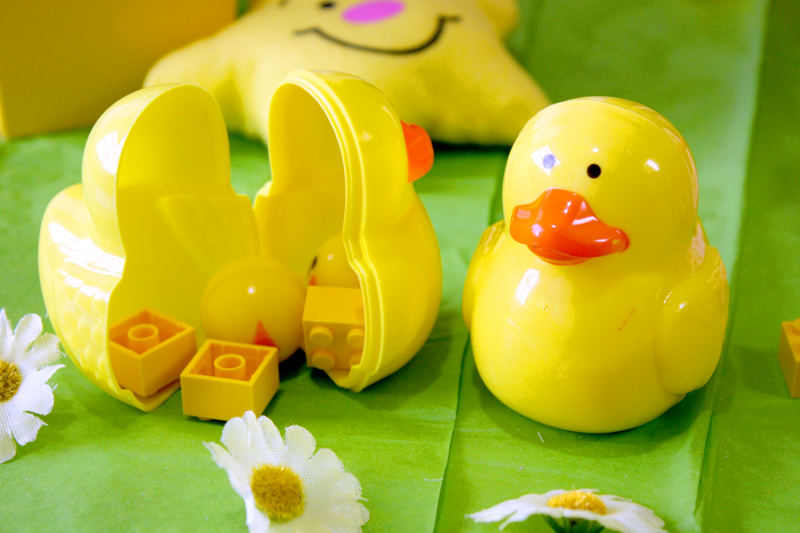 Subscription Choices
Interested in trying out a My Sensory Box subscription for your kids or grandkids?  This is an easy way to offer your children sensory play opportunities on a regular basis, especially if you are not sure how to get started.  Subscriptions are $29.95 + $3.00 shipping per month.  Or, you can buy an annual subscription for $330 per year (plus shipping, includes one free month). There are enough toys in the box for two children, and the age recommendation is 3 to 7.  Visit their subscription page to find out more!
Giveaway
Visit the My Sensory Box web site home page to enter a giveaway for a free Easter sensory box!  Ends on April 10.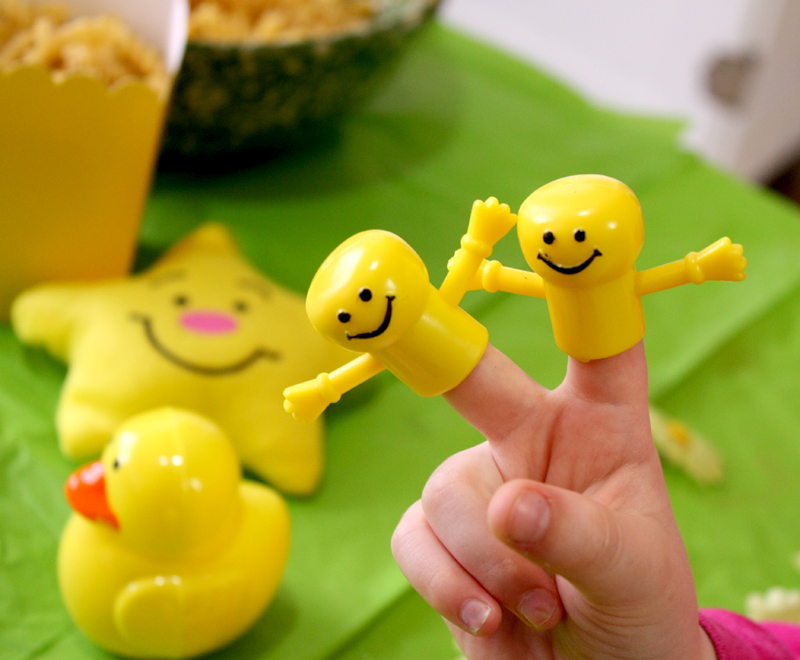 ---
Copyright 2014 Kathryn Depew
Disclosure: I was not compensated for this post, but I received a complimentary sensory box to review.
Related Articles