Etsy Felt Toy Fishing Game Review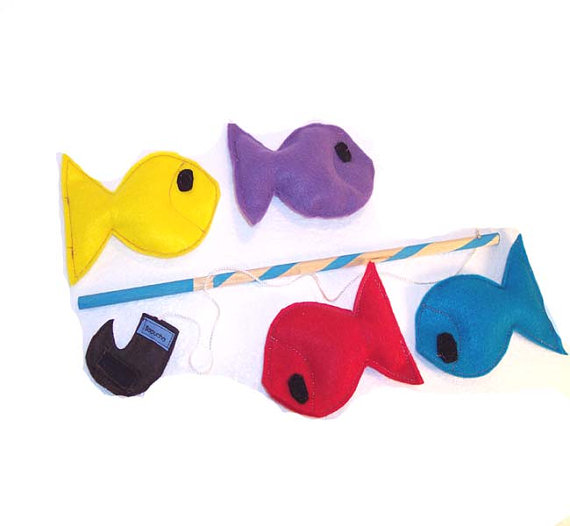 Educational Toys For Preschoolers
Etsy crafters create amazing educational toys and activities for the preschoolers in your life!  A few weeks ago I assembled an Etsy Treasury called Learning Fun ~ Preschool Activities.  One of the crafters featured in this Treasury is Erin of the Etsy Shop Sapucha.  When she gave me the opportunity to review her handmade felt fishing game, I was delighted!
The fishing game was an immediate hit!  As soon as it was out of the package, we were playing, laughing and squealing!  The game consists of a 16″ long painted dowel, 16″ long cord, a felt hook with velcro, and four felt fish.  The entire set is very well made and should last through several years of toddler and young child's play.  After we played together for awhile, the little one was able to play with the game alone – for a whole 30 minutes – that's ages in toddler-time!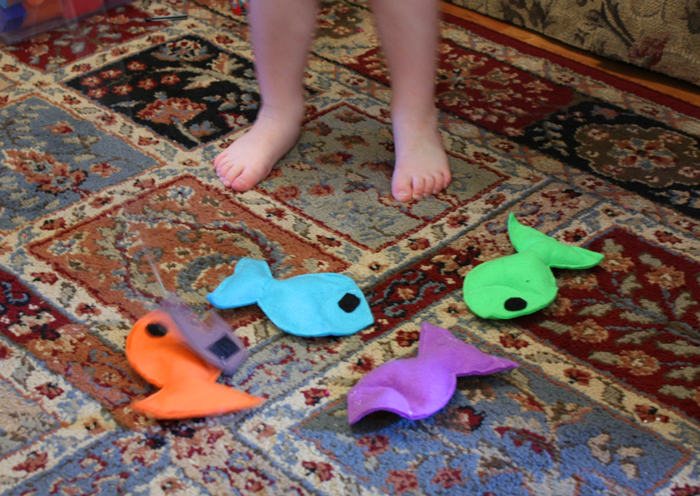 My kids love playing with it and pretend to be sailors catching their "meal" for the day. The felt fish will become easier to catch as they "felt up" the more the game is played. That is the beauty of velcro! – Erin of the Sapucha Etsy Shop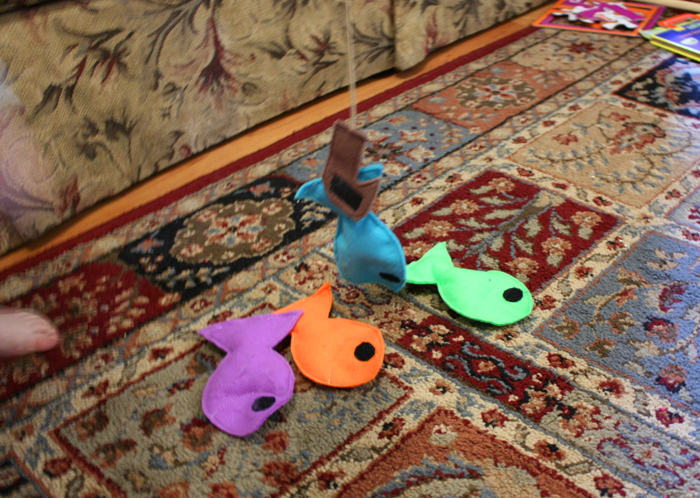 A Fun Challenge
You can catch the fish anywhere on the felt body. It is easy enough so that toddlers won't get frustrated, but difficult enough that it presents a small challenge and sense of accomplishment when the fish is caught. (I kept hearing "I did it, I caught it!")
The game is made for children ages 3 and up, and can be wiped clean with a damp cloth.  It is priced VERY reasonably at $12.00.  Please see Erin's Felt Fishing Game listing for a full description including shipping policies.
Although we have plenty of nice manufactured toys around the house, there is something about playing with a quality handmade toy that I can't quite put my finger on. Perhaps it is a sense of nostalgia, or just knowing that someone crafted the toy with their own two hands.  I also believe kids enjoy the tactile sensation of felt.  (And adults, too!  There seems to be a resurgence in the use of felt in art and crafts lately.)
Visit Erin's Etsy Shop for more of her handmade toys and children's accessories!  She will even gift wrap your purchases!
Giveaway!
Erin has provided me with a brand new felt fishing game to give away to one reader!  (We are definitely keeping the one we played with!)  This giveaway ends at midnight Eastern time on November 27, and is open to U.S. and Canadian residents who are at least 18 years old.  Please enter on the Rafflecopter form below.  All of the winner's entries will be verified.  The winner will be chosen and notified within three days of the end of the giveaway.  The winner has three days to respond with a shipping address; if there is no response another winner will be chosen.
Thank you for visiting Cotton Ridge Homeschool!
Disclosure: Sapucha provided me with a Felt Fishing Game at no cost to give away.  I purchased the game that we played with and reviewed.  All opinions are my own and may differ from yours.  Cotton Ridge Designs, LLC is responsible for shipping the game to the winner.
---
Copyright 2012 Kathryn Depew
Related articles