Introduction to Zoology for Early Elementary Students ~ Week 4: Seals & Penguins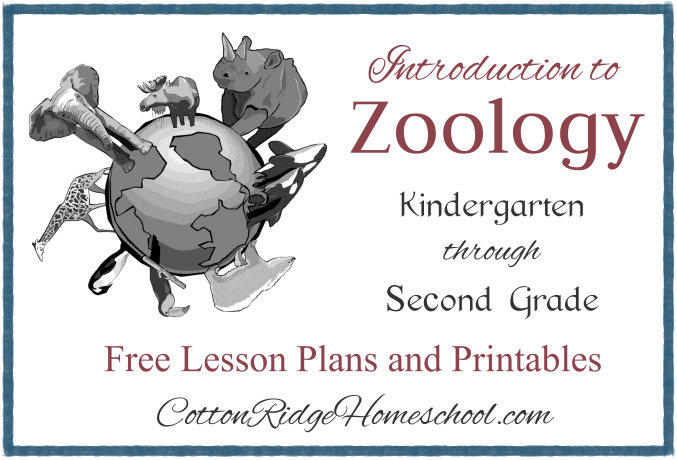 This post is part of the Introduction to Zoology series. For a suggested class schedule, an overview of the entire course, and links to more lesson plans, please see the Introductory Post.
In this lesson you will teach your students about Seals (which include Sea Lions and Walruses) and Penguins.
Disclosure: I was not compensated for this post. I am an affiliate of Amazon
, and will receive a small commission if a link on this page is used to make a purchase.
Week 4 Lesson Plan
Note: The following schedule is for a 2-hour class. We also allowed time each week for Show-and-Tell, which is not included below.
1. Map Activity (Floor: 5 Minutes)
In my lessons I used the Discovery Kids Fabric Activity World Map pictured at the right, which comes with removable felt labels and animals. Before the school year started, I put the Land Mass labels (continents, etc.) in one baggie, and the Oceans and River and Equator labels in another baggie. I split the felt animal pieces into 10 different baggies – in some cases I was able to coordinate the animal pieces with the subject of my lessons.
Each week I distributed the felt pieces among my students and allowed them to place them on the map, using a picture of the completed map as a guide.
You can offer a similar type of activity using the World Wall Map by Wall Pops, or, use a plain World Map, and cut out pictures of animals to affix to the map with poster putty or double-stick tape.
2. Poetry (Floor: 5 Minutes)
The Llama Who Had No Pajama: Penguin (page 58).
Circle-Time Poetry: Science: Cozy In The Cold (page 34 – can also sing to the tune of "My Darling Clementine").
3. Animal Encyclopedia and Animal Sounds (Floor: 5 – 10 Minutes)

Read one – four pages from a children's animal encyclopedia about Seals (Sea Lions and Walruses) and Penguins. Encourage discussion by asking:
"What is the most interesting thing you remember?"
"Do you remember how animals stay warm in the cold?"
"What differences do you notice between sea lions and walruses? What similarities?"
I mostly used DK First Animal Encyclopedia, and occasionally Usborne Children's Encyclopedia of Animals for my lessons.
Use a free Animal Sounds app on your phone or tablet: find the animals you are studying in this lesson and play the sounds for your kids. My students loved this – especially when I let them touch the buttons to play the sounds!  If you can't find the sound for the animal you are studying, try finding some that live in the same habitat.
4. Activity Idea 1: Cozy In The Cold (Table: 15 – 20 Minutes)
You will need:
Have your students color the poetry page, then glue the page on a piece of construction paper. Help them glue on some faux snow or glitter to the to the snow in the picture.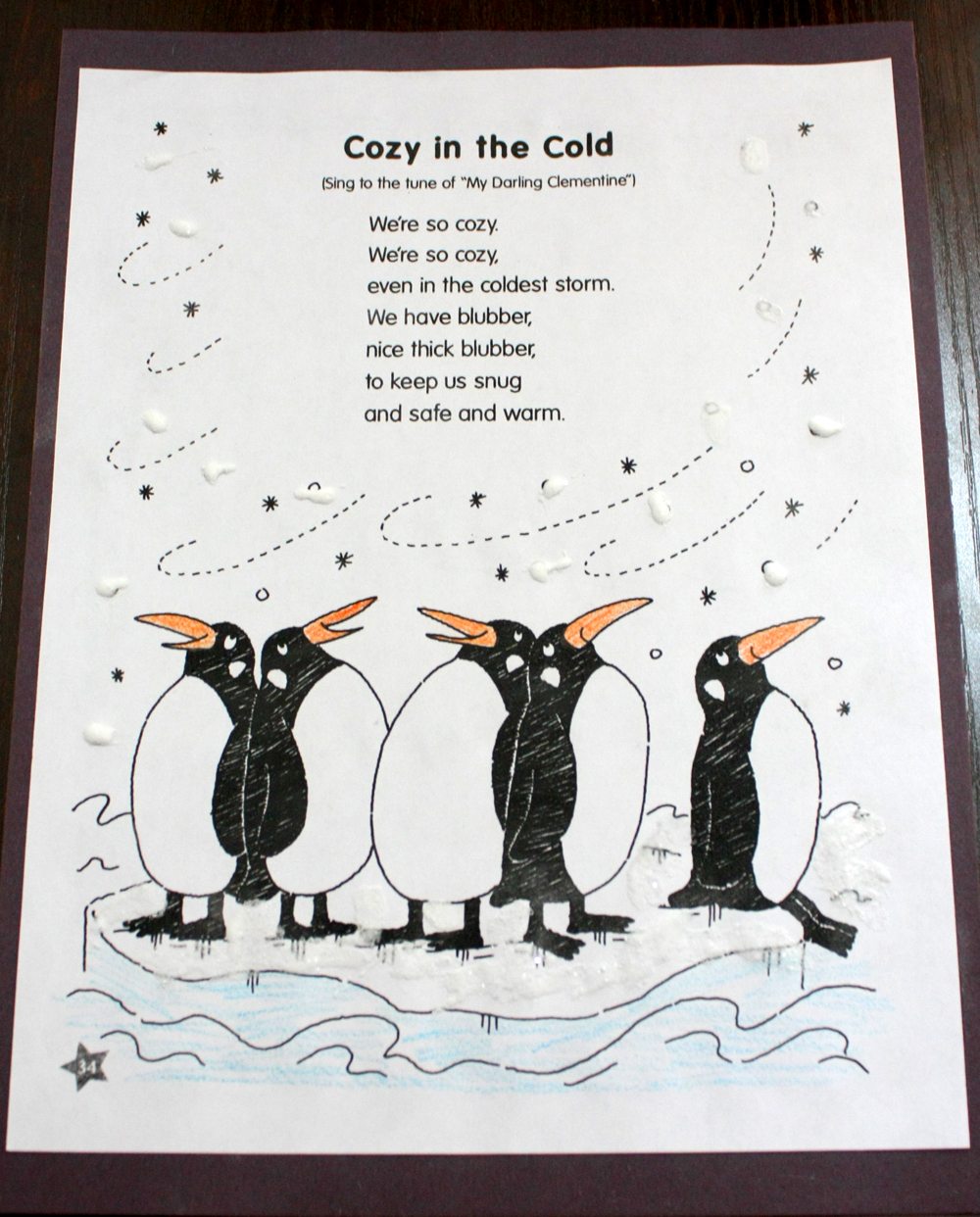 Activity Idea 2: Blubber Bag Warm-Up (Table or Floor: 5 – 10 Minutes)
You will need:
Instructions from Circle-Time Poetry: Science (page 36 – optional, see below)
2 quart-sized freezer self-sealing plastic bags
Clear packing tape
Shortening or lard
Tub of Ice Water
Towel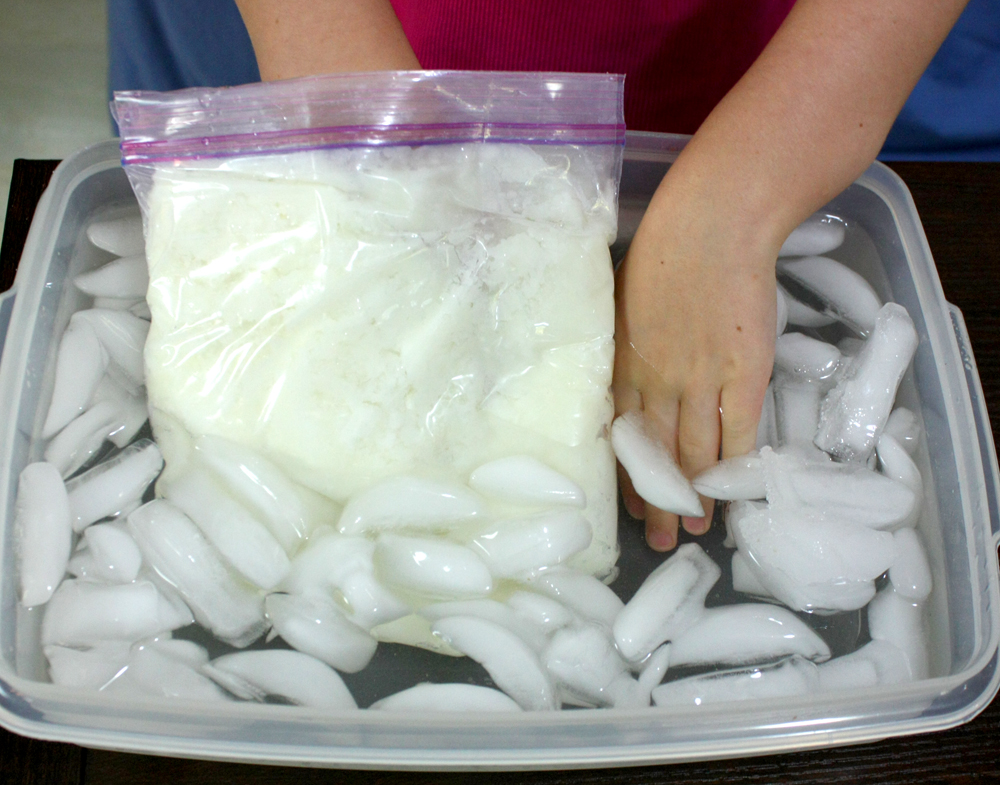 Instructions for Blubber Bag
Follow instructions in book, or make them the way I did: Take a quart-sized freezer bag and fill about 1/2 to 2/3 full of lard or shortening.  Turn another freezer bag of the same size inside out, put your hand in the bag, then insert your hand into the fat-filled bag, lining up the seams and tops of both bags.  Seal the bags the best you can.  I used clear packing tape to hold the tops together – I didn't trust the seals to stay together with five- and six-year-olds handling them!
This is a great activity to demonstrate how animals stay warm in cold freezing cold.  Explain that the lard or shortening is a fat similar to blubber which insulates polar animals from the cold.  Have your students take turns putting both hands in the water – one hand gloved with the blubber bag and the other bare.  Talk about the how long they could keep their gloved hands in the water compared to their bare hands.
5. Zoology Notebook (Table: 10 – 15 Minutes)
Pass out binders and crayons, markers and/or colored pencils. Have your students color the Seals Coloring Page (an education.com download). You can assemble the Animal Science Notebooks before the school year begins if you wish: click here for blog post with free instructions and list of printables.
6. Snack (Table: 10 – 15 Minutes)
Sledding Penguin Frozen Banana Snack from the Reading Confetti blog. Be sure to check with your students' parents/caretakers for any food allergies ahead of time.
For more animal-themed snack ideas, please visit my Science For Kids – Snacks Pinterest board.
7. Story (Floor or Table: 5 – 10 Minutes)
Hoover from National Geographic Kids Animal Stories by Jane Yolen and Jui Ishida.
8. Craft Project Ideas: Penguin Paper Craft and Bookmarks (Table: 15 – 20 Minutes)
Print the penguin paper craft page and bookmark page on printer paper or card stock. Provide child-safe scissors, glue sticks, and pencils.  Allow the students to cut out the penguin and glue him together (they can glue it to another piece of paper if desired).  After tracing the letters on the bookmarks, have the kids cut them out along the dotted lines.  You can laminate the bookmarks for them if you like – my students thought the laminator was cool!
Terms of Use
These printables are provided at no cost for personal or classroom use. Print as many as you like! Restrictions: Please do not sell this document or upload it to your web site or any other web site. If you would like to link to these printables, please link to this blog post and not the PDF files.
See my Science For Kids – Life Science Pinterest board and Winter-Themed Printables post for more ideas!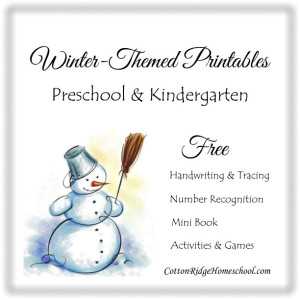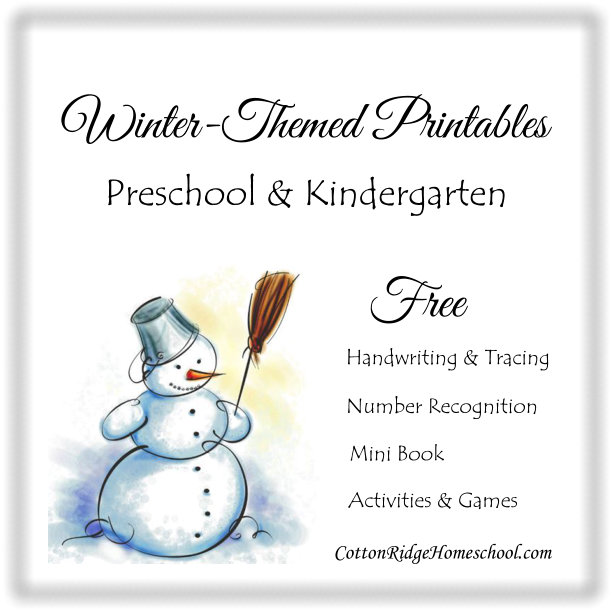 Please feel free to comment below with your recommendations – I appreciate your ideas and suggestions!
---
Copyright 2016 Kathryn Depew
Disclosure: I was not compensated for this post. I am an affiliate of Amazon
, and will receive a small commission if a link on this page is used to make a purchase.
Related articles