Introduction to Zoology for Early Elementary Students ~ Week 2: Animal Habitats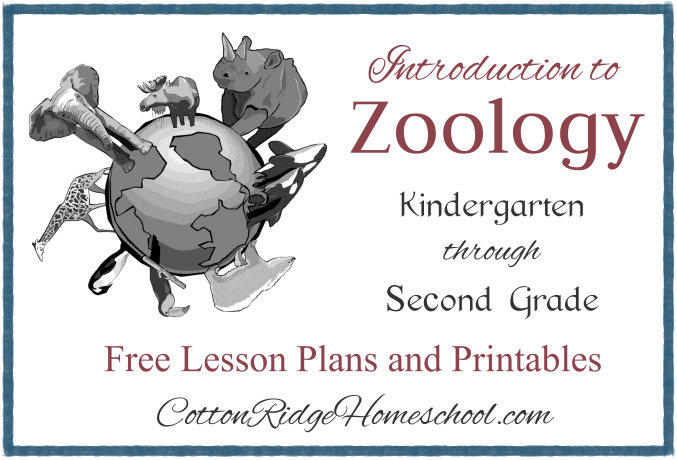 This post is part of the Introduction to Zoology series. For a suggested class schedule, an overview of the entire course, and links to more lesson plans, please see the Introductory Post.
In this lesson you will teach your students about Animal Habitats.
Disclosure: I was not compensated for this post. I am an affiliate of Amazon
, and will receive a small commission if a link on this page is used to make a purchase.
Week 2 Lesson Plan
Note: The following schedule is for a 2-hour class. We also allowed time each week for Show-and-Tell, which is not included below.
1. Introduction & Map Activity (Floor: 5 Minutes)
Label and/or name the equator, oceans and major rivers.
In my lessons I used the Discovery Kids Fabric Activity World Map pictured at the right, which comes with removable felt labels and animals. Before the school year started, I put the Land Mass labels (continents, etc.) in one baggie, and the Oceans and River and Equator labels in another baggie. I split the felt animal pieces into 10 different baggies – in some cases I was able to coordinate the animal pieces with the subject of my lessons.
Each week I distributed the felt pieces among my students and allowed them to place them on the map, using a picture of the completed map as a guide.
You can offer a similar type of activity using the World Wall Map by Wall Pops, or, use a plain World Map, and cut out pictures of animals to affix to the map with poster putty or double-stick tape.
2. Poetry (Floor: 5 Minutes)
The Llama Who Had No Pajama: Riddle (page 14) and Mouse (page 20).
3. Animal Encyclopedia (Floor: 5 – 10 Minutes)
DK First Animal Encyclopedia and Usborne Children's Encyclopedia of Animals both have pages describing animal habitats (your animal encyclopedia should, too.) Read one – four pages and encourage discussion by asking "What is the most interesting thing you remember?" and/or "If you could live in any of these habitats, where would you live?"
4. Activity Idea #1: Habitats Sorting Game (Floor or Table: 10 – 15 Minutes)
You will need small animal figures from several different habitats (see picture below) and Animal Habitat Posters from sparklebox.co.uk (click on the "Free Download Button" under "Download Free Resource." The other download buttons on the page are advertisements.)   I laminated the posters I printed so they would last longer.
Note about the animal figures – my students loved these and enjoyed playing with them when we had extra time in class!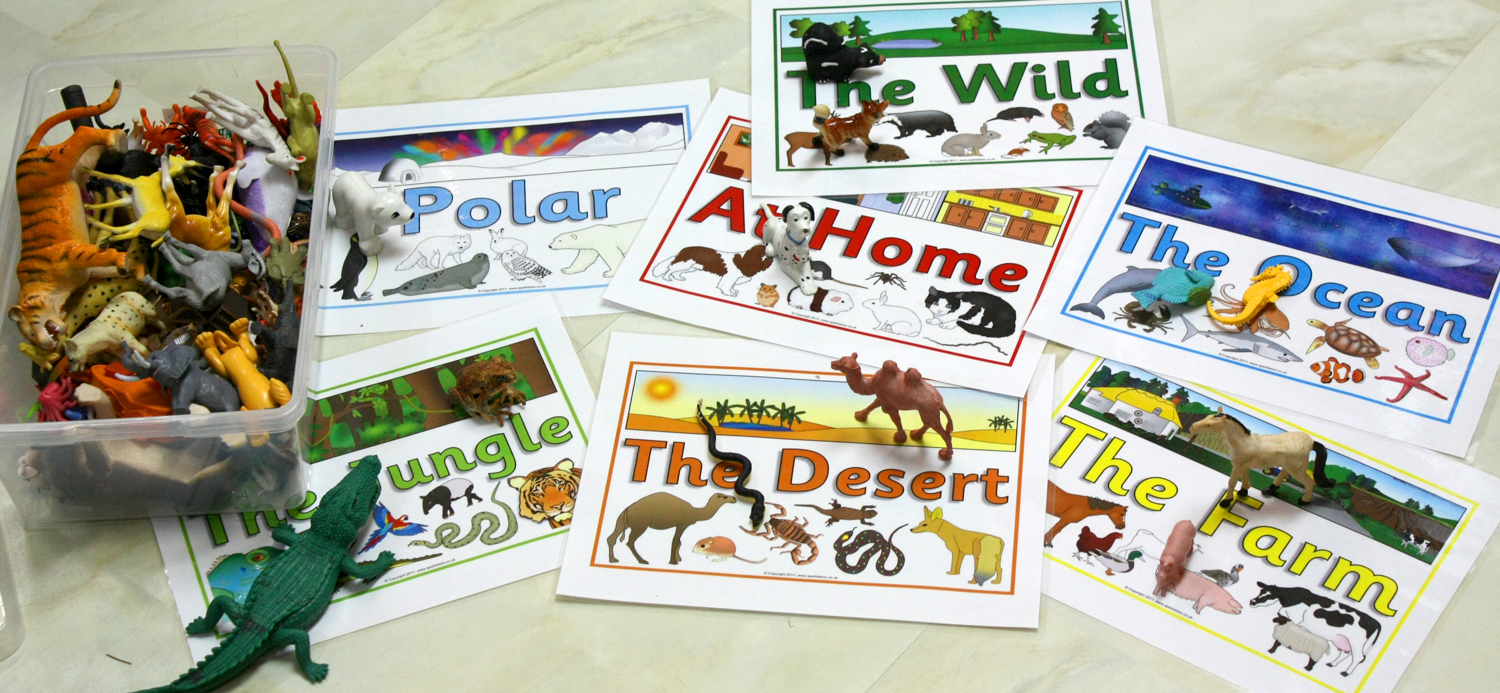 Game 1:
Distribute the posters among your children – two or three can share one poster if you have a lot of kids in your class. Keep the container of animals on your lap. Hold up an animal figure and ask: On which poster does this belong? Have the kids raise their hands if they have the right poster.
Ask why they think so, and repeat the attributes of the animal that puts it in that habitat. Repeat for the remaining animals, or until the kids get bored!
Game 2:
Spread the posters out on the floor or table. Allow 3 to 4 kids to play together and take turns. Instruct them to take one animal out of the container at a time and place it on the correct poster. Have a teacher nearby to help. Check their posters when they are finished – praise the correct choices, and talk about the incorrect placements.
Activity Idea #2: Melissa & Doug Reusable Animal Habitat Sticker Sheets
When we had extra time in class, my helper and I would pull out the animal figures from Activity #1 and the Reusable Animal Habitat Sticker Sheets from Melissa and Doug for "free play."
The kids really enjoyed these – we carefully tore out all the habitat scenes and sticker sheets so several students could play at once (one or two students per habitat).  A suggestion: be sure to allow time for them to take the stickers off the included habitat scenes and replace them on the sticker sheets so they are ready to be played with the next time.
5. Zoology Notebook (Table: 10 – 15 Minutes)
Pass out binders and crayons, markers and/or colored pencils. Help your students complete the Animal Habitats Worksheet (an education.com download). You can assemble the Animal Science Notebooks before the school year begins if you wish: click here for blog post with free instructions and list of printables.
6. Snack (Table: 10 – 15 Minutes)
Mini Jell-O Aquariums from Maryland Momma's Rambles (for class you may want to make them in smaller jars than shown in the post).  Be sure to check with your students' parents/caretakers for any food allergies ahead of time.
For more animal-themed snack ideas, please visit my Science For Kids – Snacks Pinterest board.
7. Story (Floor or Table: 5 – 10 Minutes)
At This Very Moment by Jim Arnosky – this was the story for last week, but read it again, and ask your students to identify the different habitats in the book.
8. Craft Project Idea 1: Animals Houses Book (Table: 35 – 45 Minutes)
Supplies Needed:
Reproducible pages (pages 36 – 38) "Animal Houses" from Hands-On Minds-On Science: Animals
Glue, Scissors, Crayons or Colored Pencils
Construction Paper
Blue Cellophane Wrap (I had trouble finding this, so I instructed the students to color the water blue and draw sea animals directly on the page)
3mm black pom poms (I used stickers instead – I happened to have some with pictures of ants)
Yarn or String
Tissue Paper
Hands-On Minds-On Science: Animals (Early Childhood version) is a reproducible activity book that I found at a consignment sale (I've also found it on Amazon.com.) Although it is an old book, I really liked it's reproducible projects.  For this project, follow the instructions in the book.
My students enjoyed making this book and gluing on all the little doo-dads. It took a little longer than I originally expected, especially for the kids who are detail-oriented! I made a few substitutions (see supply list above). Here are three sample pages from the book (they aren't quite completed):
Craft Project Idea 2: Under the Sea Diorama
Click here to go to my blog post with instructions and more pictures for an Ocean Diorama (scroll down toward the bottom of the post).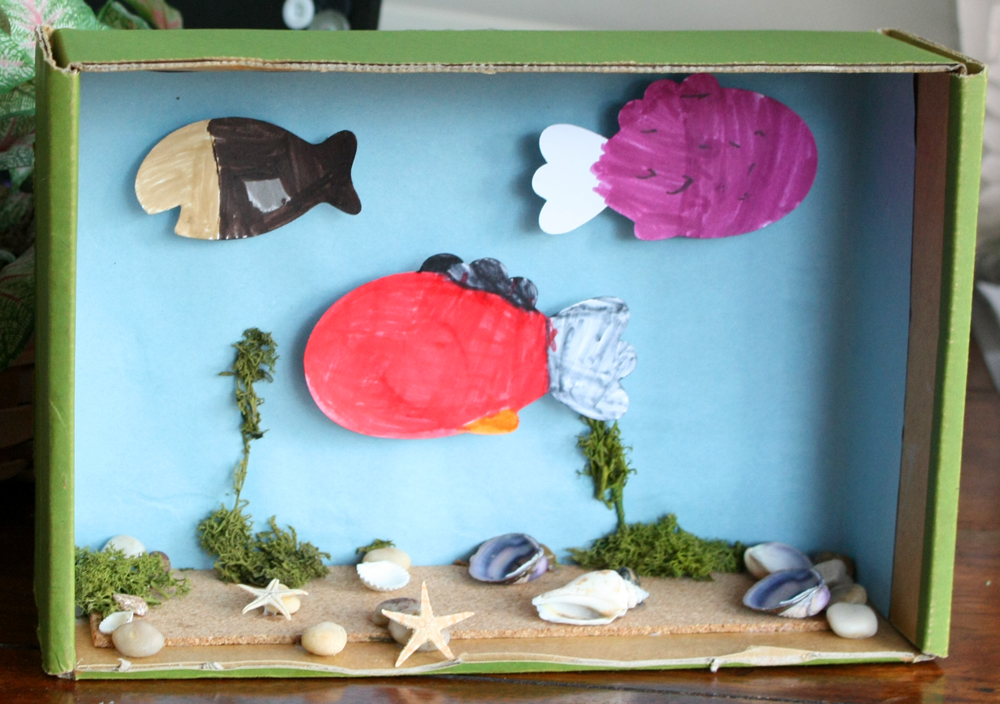 Also, see my Science For Kids – Life Science Pinterest board for more ideas!  I have pinned several dioramas from different habitats.
Please feel free to comment below with your recommendations – I appreciate your ideas and suggestions!
---
Copyright 2016 Kathryn Depew
Disclosure: I was not compensated for this post. I am an affiliate of Amazon
, and will receive a small commission if a link on this page is used to make a purchase.