Early American History: Phillis Wheatley ~ Week 7 Lesson Plan For Kindergarten and First Grade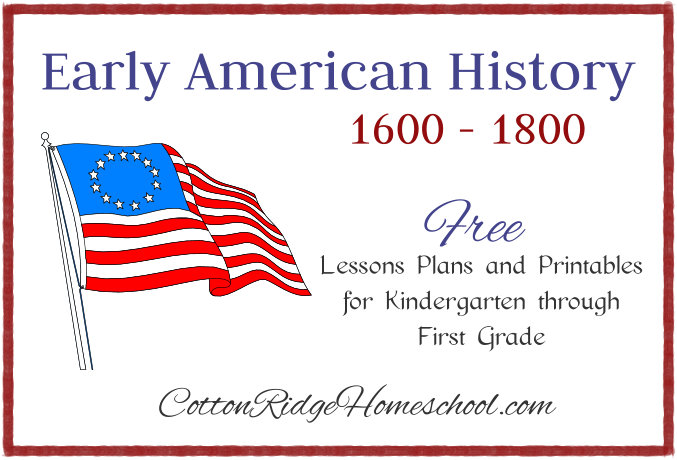 This post is part of the Early American History series. For a suggested class schedule, an overview of the entire course, and links to more lesson plans, please see the introductory post.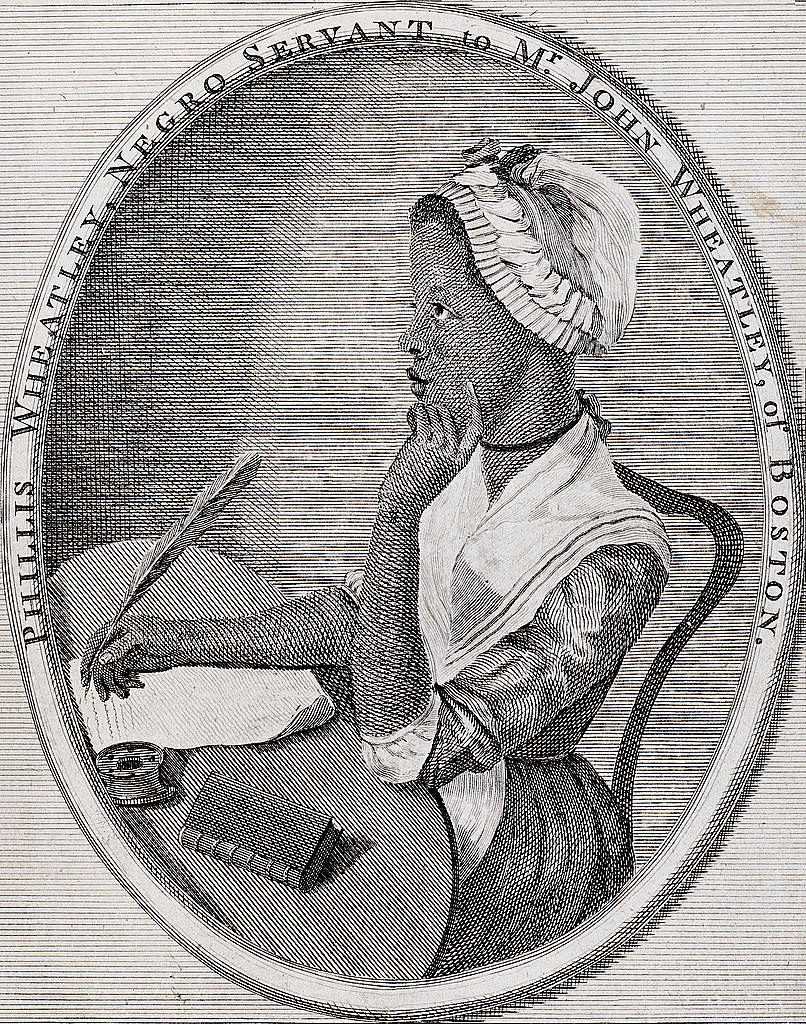 In this lesson you will teach your students about Phillis Wheatley, an 18th century African-American poet who was enslaved in Boston, Massachusetts.

Disclosure: I was not compensated for this post. I am an affiliate of Amazon
, and will receive a small commission if a link on this page is used to make a purchase.
Phillis Wheatley's story is both triumphant and tragic. After reading the children's books about Ms. Wheatley, I found myself wanting to learn more about her. The version of her Complete Writings
that I found at my local library included a biography, and I found some middle grade readers that gave an overview of her life. Although there is not as much known about her as we would like, her story is very moving – if you are reading to your children at home or you have older children, I recommend the brief chapter book Revolutionary Poet: A Story About Phillis Wheatley.
Suggested General Resources
Additional Items Recommended For This Lesson
Week 7 Lesson Plan
For suggestions on how to conduct each activity below, please see the introductory post.
Year and Subject
1773: Phillis Wheatley, a slave in Massachusetts, first publishes her poetry.
Map Activity
Find the East coast of Africa and Boston, Massachusetts.
Story
Phillis's Big Test
by Catherine Clinton or Phillis Sings Out Freedom: The Story of George Washington and Phillis Wheatley
by Ann Malaspina
Timeline Figures
Please click here for Timeline instructions and free printables.
Quill Pens, Books and Paper (one figure)
History Journal
Please click here for History Journal assembly instructions and free printables.
Page 12: Phillis Wheatley Coloring Page
Activity: Read, Discuss, and Illustrate A Poem
Phillis Wheatley wrote A Farewell to America after sailing to England to find sponsors for publishing her poetry.  (She returned to the United States after a brief stay in England.)   If you would like to read more of her poetry, you can find her volume of poetry at your local library or online: Phillis Wheatley, Complete Writings
.
Before reading the poem, explain that the poet is on the deck of a large sailing ship, looking at her home slowly getting smaller and smaller as she watches.  Let them know she faced a long journey across the ocean and is visiting a country she has never seen.  She seems to be rather sad about leaving her home, but excited as she gets nearer to her destination. Explain that the poem is written in 18th-century language and may be difficult to understand.
After reading and discussing the poem, you can provide each child with a copy that they can glue on a larger sheet of construction paper or card stock.  Punch two holes in the top, string some yarn through the holes and knot it into a loop.   Ask them to draw pictures that remind them of the poem around the outside of the verses.  They can then take their artwork home and hang it up if they wish.
Click the thumbnail below and open in Adobe Reader before printing or downloading to your computer.  (Opening in a browser window may result in garbled text.)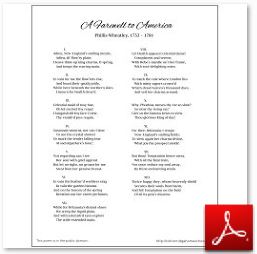 Food: Election Cakes (Gingerbread Cakes) and Root Beer
Election Day was a holiday celebrated by African Americans from about 1750 to 1850 in the northern states.  In Massachusetts, where Phillis Wheatley lived, the celebrations started on the last Wednesday in May and lasted for 5 days.  A king or governor of the celebration was elected, and a parade was held in his honor.  Root beer and round gingerbread cakes called Election Cakes were sold. You can read more about this holiday and find a recipe for Election Cakes in the book A Kid's Guide to African American History: More than 70 Activities. You can also find many recipes for gingerbread cake online.
Timesaver Snack Idea: Gingerbread Cake from a box mix.
More Activity and Craft Ideas

The book A Kid's Guide to African American History: More than 70 Activities
has many ideas for games and crafts that you could adapt to this lesson. Several recipes are also included.
Please see my American History Pinterest Board for more craft ideas!
---
Text Copyright 2015 Kathryn Depew
"Phillis Wheatley frontispiece" by Scipio Moorhead – This image is available from the United States Library of Congress's Prints and Photographs division under the digital ID cph.3a40394. Licensed under Public Domain via Commons.
---
Related Articles