A Star For Me ~ Christmas Gift Book Review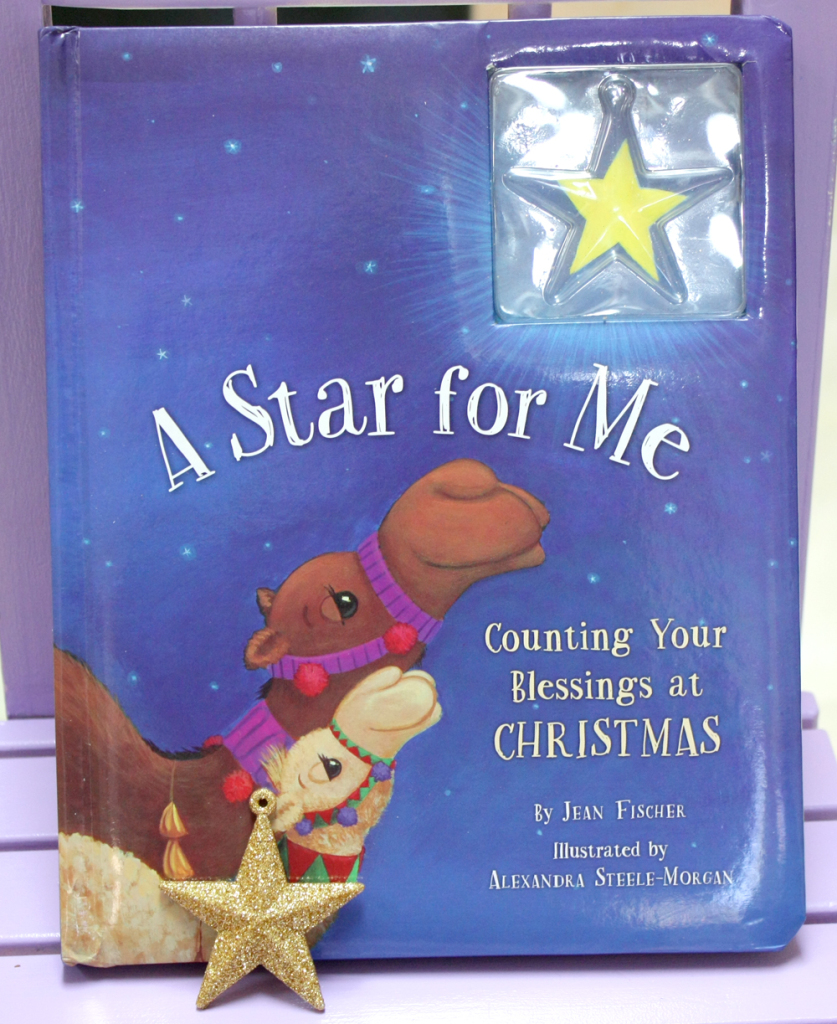 Disclosure: I was not compensated for this post, but was given a free book to review. I am an affiliate of Amazon
, and will receive a small commission if a link on this page is used to make a purchase.
It's time for Christmas book reviews and giveaways!  I love books that remind us of the reason behind the celebration of Christmas: the greatest gift of all, Jesus Christ.   Please scroll down for the A Star for Me book review an giveaway, and watch for the God Bless Our Christmas book review and giveaway, coming soon!
My Review
When my daughter watched me unpack this month's Tommy Nelson packaged, she saw the A Star for Me book and promptly announced "we are keeping this book."  (Sometimes we give our books as gifts.)  She was very excited about the little ornament. We read the book that same night, even though it was past her bedtime (how could I refuse such an enthusiastic child?)
A Star for Me
: Counting Your Blessings at Christmas by Jean Fischer is a beautiful padded board book with wonderful illustrations by Alexandra Steele-Morgan.  My preschooler figured out how to get the ornament out of the little package before I had a chance to take a picture!  It is the perfect size for a little kid.  The star ornament gift captured her attention, and the story kept her interest throughout.
Searching For Jesus
The main character Ollie is a young camel who sees a bright star, and thinks it is just for him, but learns in the end that it is for everyone!  The story takes us on the journey of the wise men, and reminds the reader of blessings along the way.  What a wonderful reminder to be thankful for what we already have during this season of giving and getting!
The story ends with the travelers finding Jesus in the stable lying in a manger in the city of Bethlehem.  I know this is the traditional story, but I've always believed that they found him many months later living in a house.  I did some quick research on the web, and realize that there is some debate about this.  Many children's books feature the wise men at the manger, I've noticed.  Fortunately, the difference in opinion doesn't affect our basic beliefs, and we can enjoy this lovely Christmas story.  M loves reading "Jesus stories," and we will be "keeping this book" just as she requested!
Purchase Information
The publisher recommends A Star For Me for children ages 4 through 8, however, I would recommend it for kids through age 6 years old. It is available to order at this link
. Currently priced at $10.79 (at the time of this post), the List Price of this gift-quality padded hardback book is $14.99.
To preview this book online, please scroll down below the giveaway form to "flip" through it.
Giveaway
Tommy Nelson publishers has generously offered one of my readers a copy of A Star for Me
! The giveaway is open to U.S. residents and will run through midnight on December 1, 2014. Must be at least 18 years old to enter. The winner will be contacted via email and will have two days to claim the prize. If unclaimed, a new winner will be drawn. The winners' entries will be verified. Please enter the contest using the Rafflecopter form below. All entries are optional. Thank you for visiting Cotton Ridge Homeschool!
---
Copyright 2014 Kathryn Depew (except publisher's image).
Disclosure: I was not compensated for this post, but was given a free book to review. I am an affiliate of Amazon
, and will receive a small commission if a link on this page is used to make a purchase.