The Story of Jesus Book For Toddlers & Preschoolers ~ A Review
Disclosure: I was not compensated for this post, but was given a free book to review. I am an affiliate of Amazon
, and will receive a small commission if the links on this page are used to make a purchase.
This is my second month as a Tommy Nelson Mommy, and my daughter and I were once again excited to open our package!  We found three wonderful Easter resources to review and giveaway!  The Legend of the Three Trees DVD is a wonderful movie that helps communicate God's love to your child – you can read the review and enter the giveaway through April 7, 2014.  My review, along with another giveaway, of God Bless Our Easter can be found here.  The Story of Jesus is another wonderful book for the upcoming season – and it's a small enough to fit in most Easter baskets!  See more about this little book below.
Review
When I first opened our package, my preschooler immediately pointed at The Story of Jesus and asked, can we read that book right now?  I was a little surprised because I originally supposed it was made for toddlers.  However, I can definitely see the appeal.  We loved the illustrations and the colors, and the fact that it has a handle is very important to a four-year-old!  The book's size is perfect for the hands of a small child.
The story – in a nice rhyme – introduces Jesus as God's Son, then takes the reader from His birth to His resurrection.  The crucifixion is handled in an age-appropriate way.  I'm always interested in a book or other resource that talks about Jesus and His life, death, and resurrection in language a child can understand.  This book accomplishes that very nicely.  It is not too in-depth, but provides a big-picture view of Jesus that a child (or adult!) can grasp.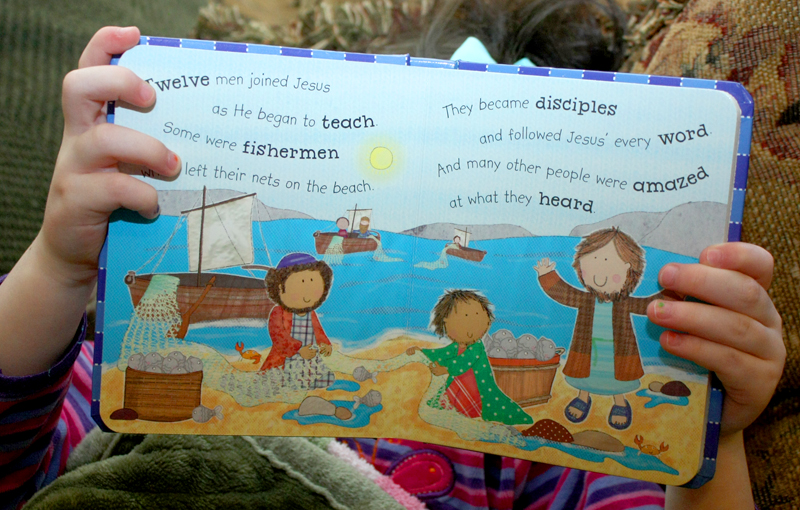 The only thing that I disagreed with was the last statement: "Now Jesus is in heaven, watching over us all, and it's up to us to follow Him, and listen to His call."  Perhaps disagree is too strong of a word – I do believe He is up in heaven, but I think it is important for children to understand that He is also here on earth and wants to live in us.  I wasn't sure how to explain this to a little preschooler, but I did my best.  I don't really have a problem with the statement in the book, I just wish it had gone a little further.  It was a great jumping-off point for a good (if brief) conversation about Jesus!
Purchase Information
The book is appropriate for children ages 0 through 4, and is available to purchase at this link
.  Currently on sale for $6.29. You can "flip" through the book here online – scroll down below the giveaway form.
Giveaway
Tommy Nelson publishers has graciously offered one of my readers a copy of this book The Story of Jesus, just in time for Easter!  The giveaway is open to U.S. residents and will run through midnight on Monday, April 14, 2014.  Must be at least 18 years old to enter. The winner will be contacted via email and will have two days to claim the prize. If unclaimed, a new winner will be drawn. The winners' entries will be verified. Please enter the contest using the Rafflecopter form below. All entries are optional.  Thank you for visiting Cotton Ridge Homeschool!
The Story of Jesus by ThomasNelson
---
Text and Images Copyright 2014 Kathryn Depew (except publisher's image).
Disclosure: I was not compensated for this post, but was given a free book to review. I am an affiliate of Amazon
, and will receive a small commission if the links on this page are used to make a purchase.
Related articles