Fun & Educational in Overland Park, Kansas: Deanna Rose Children's Farmstead
A "Family" Farm
The beautiful Deanna Rose Children's Farmstead is located on 12 acres in Overland Park, Kansas.  It not only has many attractions for kids, but many features to draw their parents as well, including lovely gardens and a one-room schoolhouse.  I was thrilled with the many "photo-op" areas for family pictures, too!
The Farmstead is closed during the Winter season, and will open on April 1.  This is a great time to plan your visit!
At the time of this writing, admission is FREE during the week, and $2.00 per person on Holidays, Fridays, Saturdays and Sundays. Food prices were reasonable as well: simple sandwich lunches, hot dogs, ice cream and more are available.
The following is quoted from the Overland Park web site:
Designed to depict a turn-of-the-century family farm, the Deanna Rose Children's Farmstead has almost 200 animals and birds of prey, vegetable and flower gardens, a one-room country schoolhouse, an old-time fishing pond, pony rides and more.

With the Kansas family farm slowly disappearing, the 12-acre "Children's Farmstead" opened in 1978 and was re-named in 1985 to honor Deanna Rose, the first Overland Park police officer killed in the line of duty.

Deanna Rose's legacy was to bring the charm of the farm to children living in the city. Children treasure such memories as bottle feeding baby goats, milking a cow and taking a horse drawn wagon ride through the woods.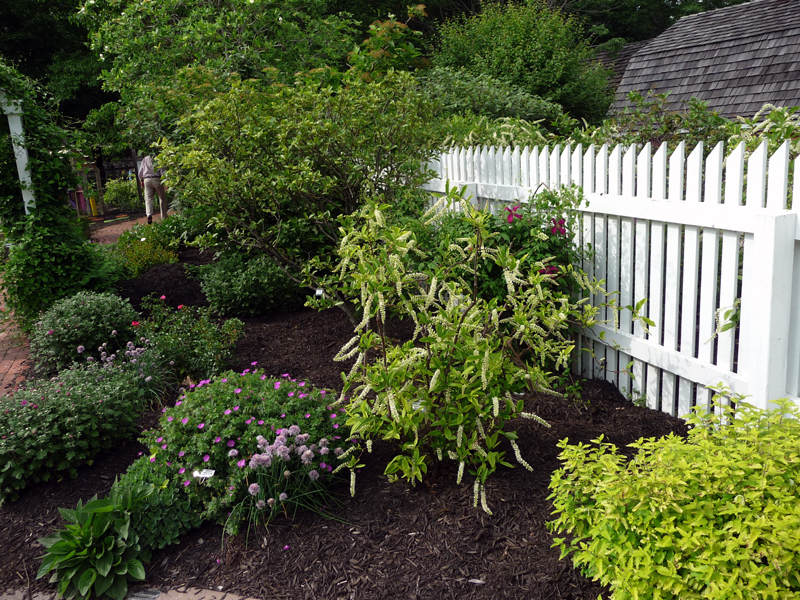 Beautiful gardens were planted over much of the acreage.  There was a wonderful Cottage Garden
– complete with a little white cottage!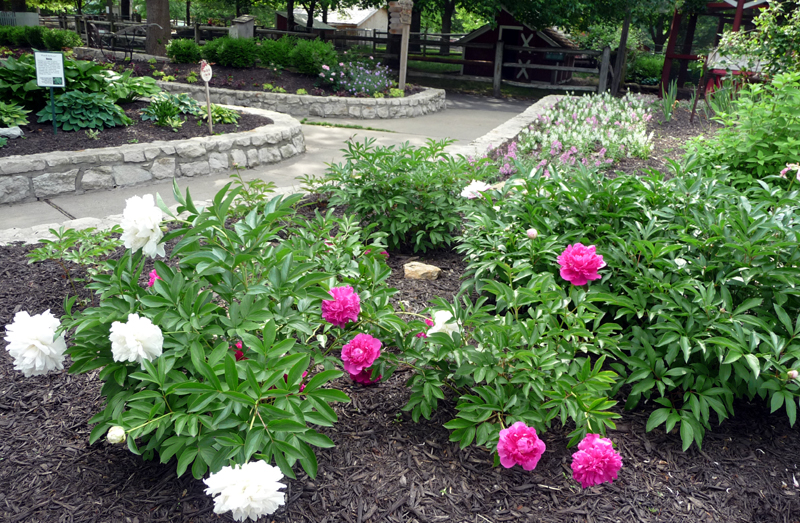 Our visit was quite enjoyable despite the heat (we visited in the afternoon on a hot day – but it was a good excuse for ice cream). There were many areas for children to interact with animals and other aspects of farm life. If we have the opportunity to visit again, hopefully we will be able to spend a few hours (and let's wish for a cool day while we're at it!)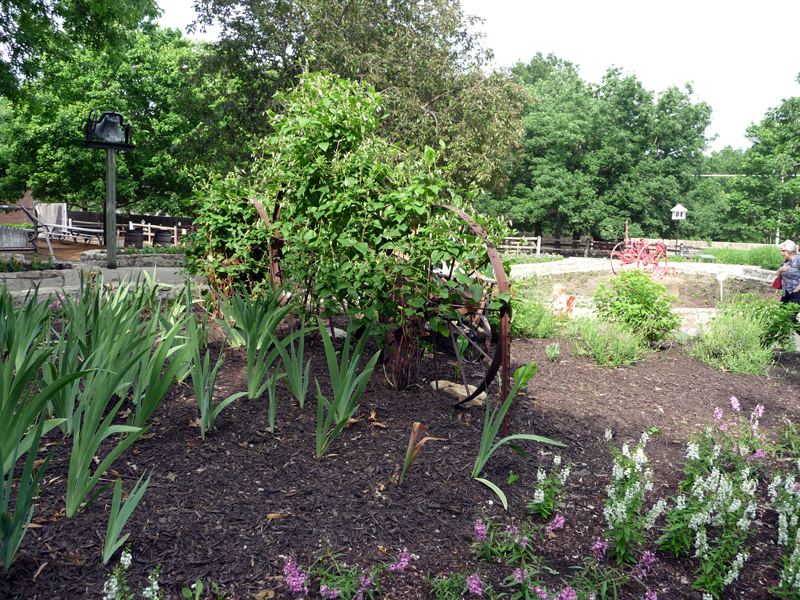 Great idea for a vine trellis!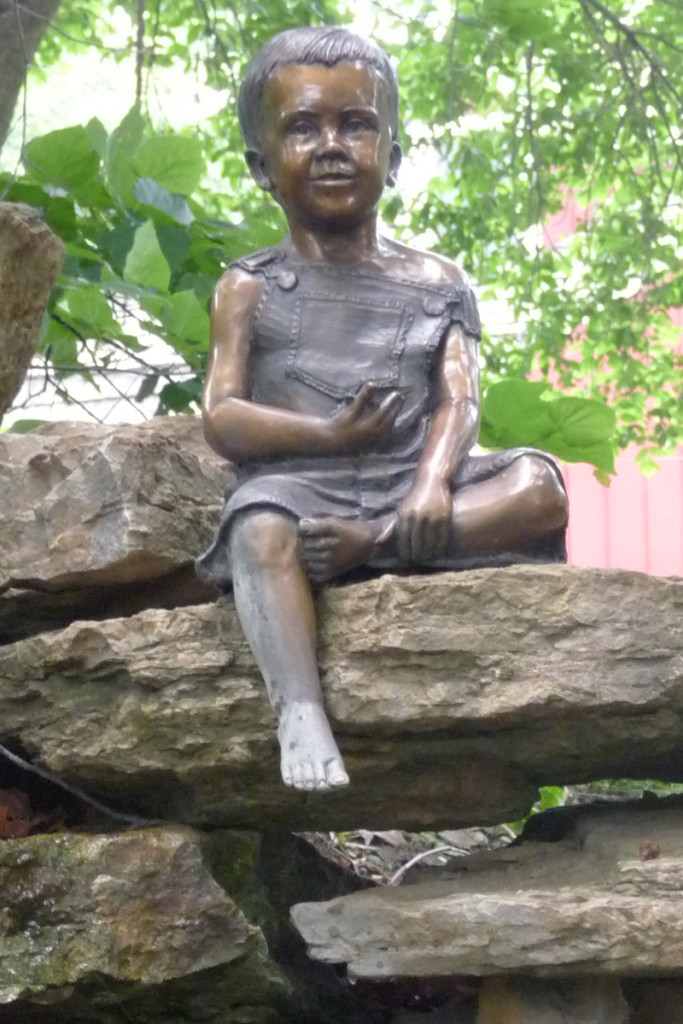 Boy With Frog by Tom Corbin
perched near a beautiful waterfall.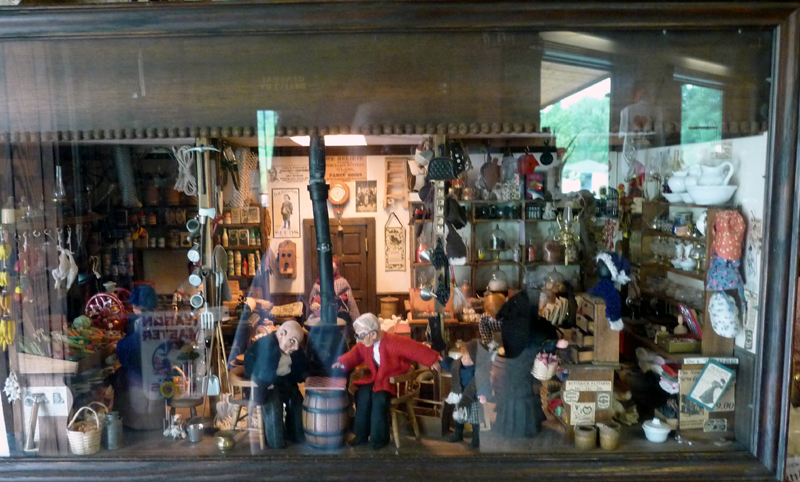 Miniature
General Store inside the full-size Farmstead General Store!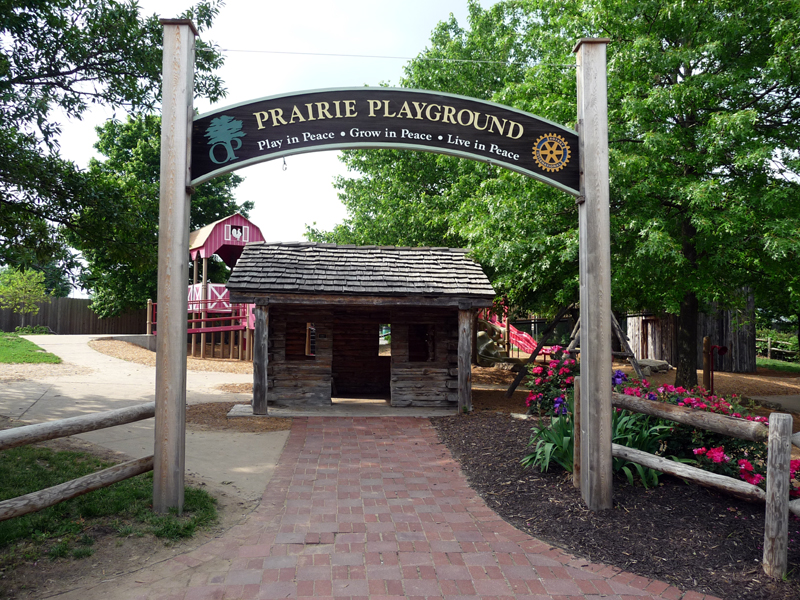 One of the several areas on the Farmstead where kids can just play!  Visit the Deanna Rose Children's Farmstead web site to plan your visit.  You are welcome to comment below with your family's experience!
---
Text and Images Copyright 2014 Kathryn Depew
Disclosure: I was not compensated for this post, and I am not affiliated with the Deanna Rose Children's Farmstead.  I am an affiliate of Amazon.com
, and will receive a small commission if the Amazon.com links on this page are used to make a purchase.
Related Articles