ZZZZZ! Top Ten Calming Baby Tunes
From Guest author Holly Chavez.
Moms often face the challenge of getting their newborns to sleep. They rock them, and then put them in their bassinet when they see them closing their drowsy little eyes. As soon as they are put down to sleep, though, watch out! They start crying. Even older babies who happily play and nap in their infant play yard, sometimes struggle with going to sleep. You're at a loss to explain what can be bugging them. However, if your newborn could talk, they might tell you that they're lonely or have a tummy ache. Your older baby might tell you that there is just so much to do, mommy! Why sleep?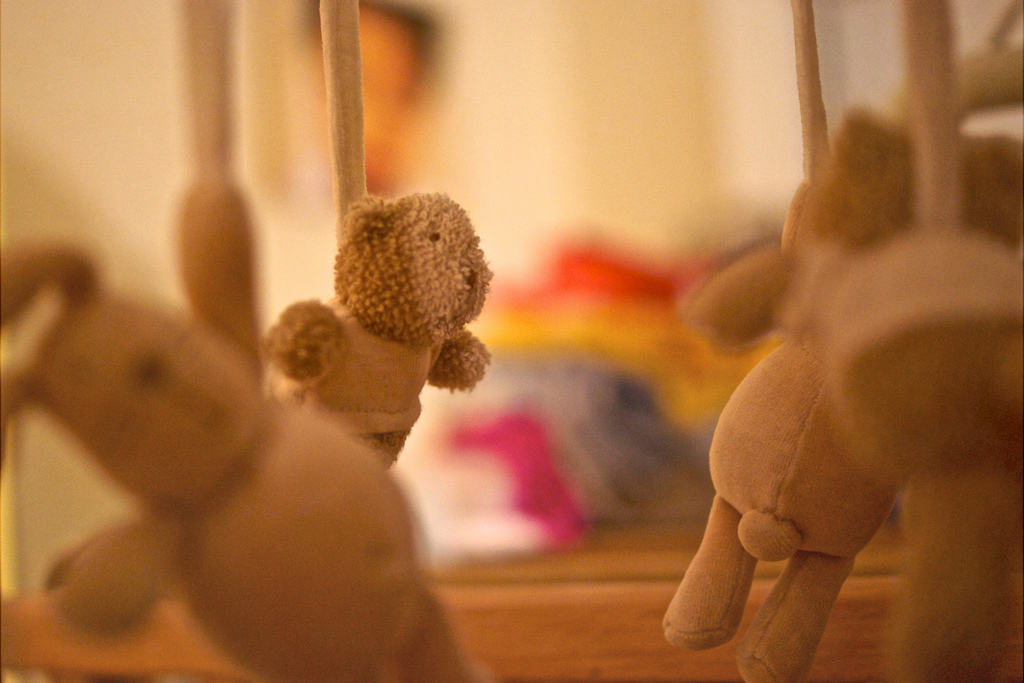 Music can be a wonderful distraction to babies, and the right choice of tunes can help your little one fall asleep and stay asleep until they are fully rested. Remember that your baby was inside your womb for nine whole months, and it was not quiet at all. There was a multitude of sounds–an utter symphony! There's gurgles, fluids rushing in and out and the rhythm of mommy's heartbeat. The outside world must be downright quiet to a baby.
Bedtime music that you choose for your baby needs to mimic those natural sounds of the womb in order to be the most effective. The best tunes to soothe your babe must have predictable and repetitive tunes because they create that womb-like environment that is more familiar to them than their quiet little beds. The music has to be soft and non-jarring, though, or it will wake them up. 
Here is the most anticipated top ten list that mom has been waiting on: The Top Ten Calming Baby Tunes. There's a mixture of classical music, traditional lullabies, white noise and nature sounds that your baby is sure to love. This soothing list of songs are recommended to make your little one sleep like…….you know, a baby.
1. Relaxing Rain for Sleeping Babies
Relaxing Rain is a beautiful tune that will help your baby fall asleep and stay asleep. Water sounds are very soothing to baby and helps him relax. The song has a beautiful piano instrumental and the sound of falling rain in the background-very calming.  Dancing Rain lasts about two minutes and fades out. You can put it on repeat while your child is sleeping. The song comes from the album Newborn Baby Lullabies by Autumn Hill Records.
2. Pachelbel's Canon
The album Baby Sleep Music from Classic Home Records has a wonderful collection of classical music tunes for baby. One of the best ones on the soundtrack is Pachelbel's Canon. The stirring instrumentals of the song are very soft and are exactly the right tempo to relax baby and allow her to drift off. The harp is the main instrument used for music in this song, and the musician deftly uses it for a very sweet and calming effect for its tiny audience of one. It's a perfect bedtime lullaby.
3. Waltz No. 15, Lullaby
It's a safe bet that your mom probably sung this to you at night when you were a baby. It was comforting back then and helped you fall asleep, and now it can do the same for your little one. The Baby Einstein Orchestra does a very nice job with Waltz No. 15, and it's a very nice piano theme to play during baby's sleepy time. You can find the song on the Baby Einstein Lullaby Classics album
4. Baby Sleep Music 7
This music is a real snore and makes babies, grownups and household pets fall asleep. Well, maybe making the pets fall asleep is a stretch, but the music is incredibly zen. There's lots of soft xylophone and synthesized music, and it has that effect parents are looking for-making your child conk out when it's time for a nap. The music is from the soundtrack Lullaby Bedtime Music and is performed by SmoothMusic. It's a really good cure for those nights when baby is restless.
5. Brown Noise Loop
This song is great for cranky babies. It's from the White Noise Loops for Sleep soundtrack. Babies sleep very well when listening to white noise sounds, especially newborns. It is very soothing to them and helps them sleep soundly. There are several different white noise songs on the soundtrack, but Brown Noise is the most effective and really works its magic when your babe is fighting sleep. Put it on a loop, and let it work its magic.
6. Night Sleep Music
The song Night Sleep Music by the Kiboomers mimics the sounds of nature on a summer night, and you can hear crickets and tree frogs chirping as if they were right outside your babe's window. It's a good choice of song to play to call the sandman to your baby's crib at night to help him sleep. You can also play the Nighttime Music song for him that has the same sounds of nature that the song Night Sleep Music has, but also includes some additional background music on it. These songs are featured on the Kiboomu soundtrack along with thirty other sleep-inducing songs.
7. Rock a Bye Baby Lullaby
The Baby Sleep Aid album has a great variety of calming tunes to put baby to sleep and gives you that sense of accomplishment that you get when they are finally sleeping soundly in their play yard or crib. The Serwin group puts an exceptionally lovely spin on such classics as Brahms' and Canon in D, but the way that the group performs Rock a Bye Baby is something really special. It's a nice touch for parents that want wholesome classical music playing in their napping babe's room.
8. London Bridge
There are some simple and repetitive songs on the Lullabies for Babies album that will put your little tot to sleep. The songs are so soft-sounding that they  are sure to make him nod off quickly. The children's song, London Bridge, is exceptionally good and very enjoyable for baby to listen to while he watches his mobile and slowly drifts off into dreamland. The instrumentals played by the Lullaby Land group are so good; you may catch yourself listening to your baby and the songs through the baby monitor.
9. Sonography
Much like white noise, Sonography recalls the repetitive and calming lullaby your child heard in the womb. The song is really good for newborns and mimics the whooshing fluids and heartbeat they heard when they were still in mommy's tummy. The song has remarkably soothing effects, and you can play it throughout the entire time they sleep, especially if it is played continuously through the night.
10. Irish Lullaby
This one is saved for last because this song, along with several others on the Mozart Lullabies soundtrack, is just haunting and beautiful. There's 42 lullabies on the soundtrack by Aqua Purha, quite a large selection. A few exceptionally good ones to mention on the soundtrack are Brahms' Lullaby, Hush Little Baby and My Bone Lies over the Ocean. The track is full of soothing classical songs that make your baby want to relax and get a restful night of sleep. The band does a splendid job with the instrumentals, and the album has yielded a unique and relaxing group of songs to lull your baby to sleep.
Well, there's The Top Ten Calming Baby Tunes, and it is dedicated to all those tired moms out there that need some rest. You can download some of these songs to MP3 players or tablets and play them next to the place where your child sleeps. There are many baby-friendly stuffed animals, mobiles and music boxes that will play tunes to help them go to sleep, also. Keep in mind that your baby has a unique personality, and you may need to experiment and find the ones they really like. You may even find quite a few that you both like.
Guest author Holly Chavez is a freelance writer who lives with her family in Atlanta, Georgia. She babysits her baby niece who can be a little fussy when she is put in her infant play yard to take a nap. Her favorite songs to go to sleep by are Silent Night and Pachelbel's Canon. She usually fights sleep a little bit, but once her favorite music is turned on she drifts off right away and sleeps peacefully.  Circle Holly on G+ and let her know which songs your baby likes best.
---
Image from flickr.com used under the Creative Commons license. Image credit: Nanagyei.

Related Articles