A Day At The Zoo Art Kit From SuperCool Art, LLC ~ A Review
Disclosure: SuperCool Art, LLC sent me a complimentary painting kit to review.  Below is my honest opinion.
My preschooler is always thrilled when packages are delivered here, especially when they are for her!  Our Day At The Zoo painting kit from SuperCool Art arrived yesterday morning, and M was very excited when I pulled the big green tube out of the long box, and started putting the art supplies on the table (she loves to paint).  What I like most about the kit is that it can be adapted to any age group from preschool through elementary school (junior highers may even enjoy it)!
I've loved crafts since I was a child, and developed an appreciation for art as an adult.  I believe it is an important part of any education, as it aids in visual learning and creative expression.  Also, art and crafts are FUN, and we like to enjoy them just for their own sake.  Here are 20 Reasons Why Art is Important For Children.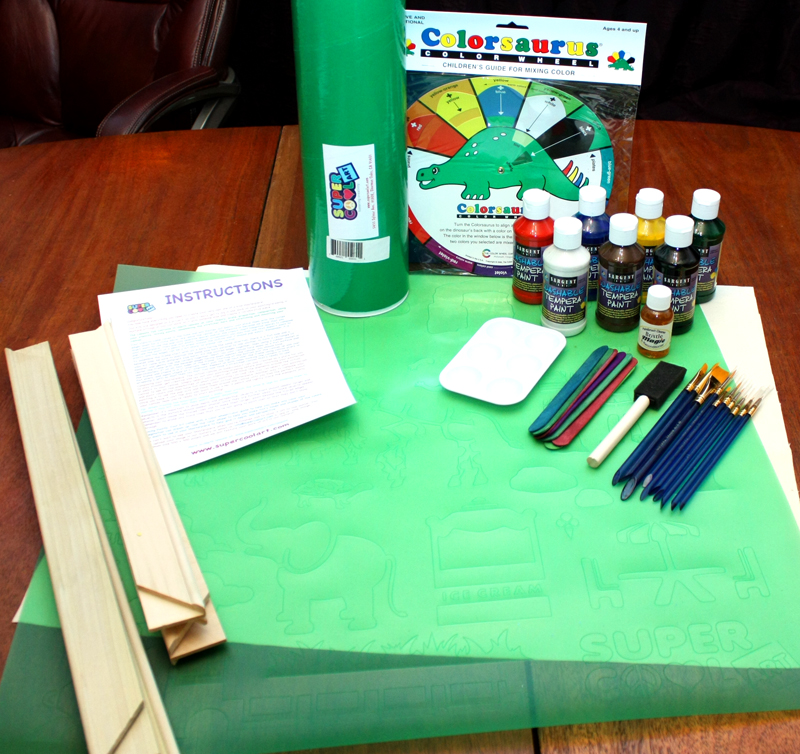 This isn't the type of kit that can be used right out of the box, but it does contain several high-quality artist tools that can be used again and again.  If care is taken, the color wheel, wooden stretcher bars, template, paint brushes, and palette could last for several years.  Another nice feature is that the sturdy cardboard tube in which the kit arrived can be used to store the tools, also!  Mine is a bright green color that will be easy to find in my rather cluttered office!
SuperCool Art, LLC graciously sent us a complimentary Medium Day at the Zoo Art Painting Kit to review.  It is priced $59.95, and after you read the review below, I believe you will agree that it is a great value.  The excellent online resources (described below) are icing on the cake!  SuperCool Art offers Drawing Kits also, and several different template themes.  Wall templates are also available, so you can decorate your room to match your paintings!
Allow Prep Time
Flatten Template and Color Wheel: NOW is always the best time to start, according to M.  We didn't have time for the project right away, but I began reading the instructions and found out that the stencil needed to be flattened out a bit.  I put it curled side down on the table, and put the stretcher bars on top of the corners for a little weight for awhile.
Assemble the frame for the canvas:  The included instructions explain how to assemble frame from the four bars and stretch the included canvas over it.  I put the frame together in about two minutes, and it took about 5 minutes more to stretch and staple the canvas.  Although I had never done this before, and I didn't have the recommended pliers (just used my hands), we now have a nice, stretched canvas for our work of art.  Once the painting is completed, we will take it off the frame, and store the frame as-is or take it apart and store the bars in the tube.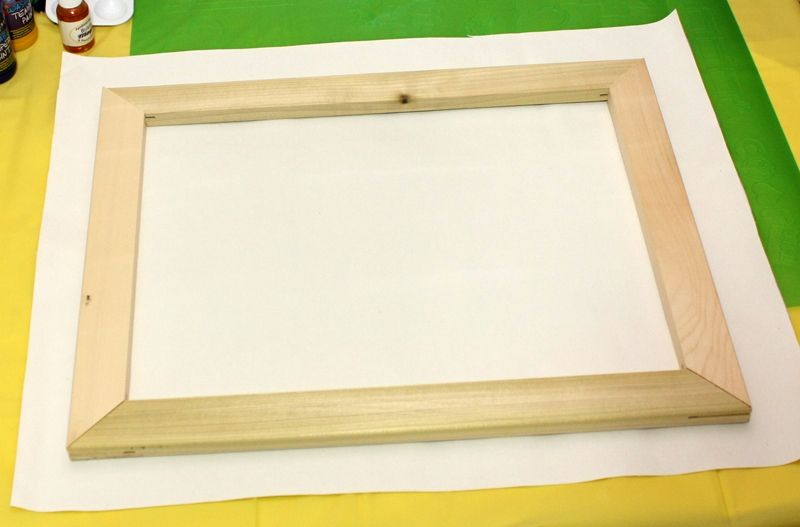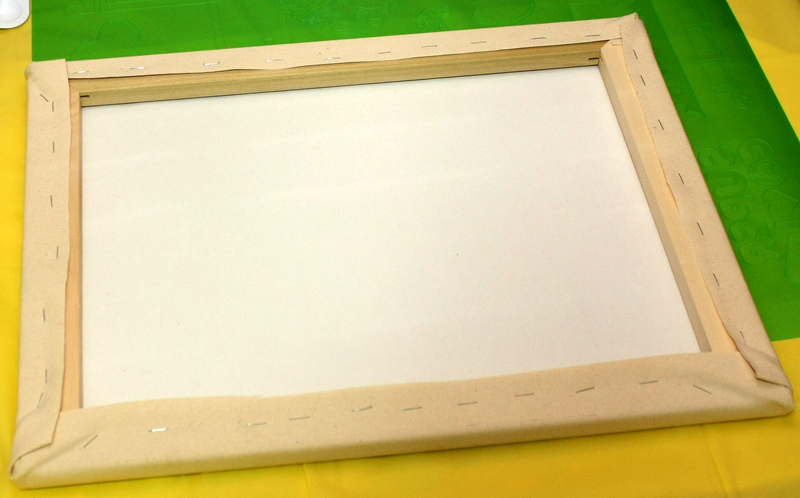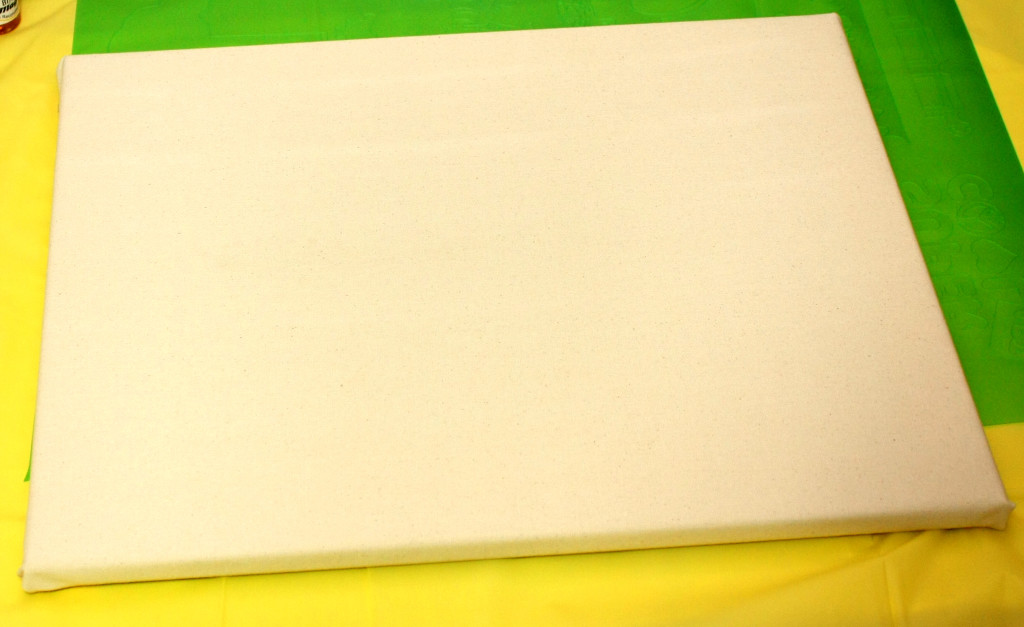 Prepare the stencil: Preparing the stencil was not quite as easy as assembling the frame, however, my four-year-old was actually able to trace around and pop out the simpler shapes without much trouble!  Be sure to watch the brief video on how to pop out the centers of your stencil before you start.  It recommends using a (retracted) ball point pen.  I tried that and a few other things before I settled on a ball-point stylus.  (I couldn't find a ball point pen with the same shape tip as the one in the video.)  It took several minutes before I got the hang of tracing around the scored lines and popping out the centers.  I recommend starting with the simpler shapes on your template, rather than the ones with the more intricate patterns.  I worked on the template while we watched Peanuts' I Want A Dog For Christmas, Charlie Brown, and finished it by the time the movie was over!  Hint: Save your popped-out shapes in a quart-sized or gallon-sized zipped plastic bag.
Paint the Background & Trace
My preschooler had fun helping me mix the paint for the background: blue and white for the sky, and green and yellow for the ground.  She painted the background (with a little help) and let the paint dry a couple of hours.  The included color wheel was a great start for a very brief lesson in color theory!  I also checked out the color lessons on the SuperCool Art web site.  These were a great reminder for me, and perfect for teaching older kids the art and science of color theory.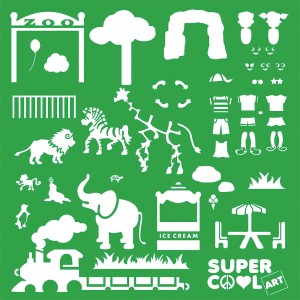 After the background was dry, she enjoyed using the punched-out shapes to plan her painting. I let her decide where she wanted the elephant, lion, etc., and she positioned the shapes on the canvas.  A word of advice if you are working with a preschooler: let them go play while you trace around the shapes with a pencil on the canvas, and call them back when you are finished. While M liked playing with the other shapes while I traced, she got a little antsy while she was waiting to paint!
Kids can also go online to plan their work of art. They can lay out their painting or drawing, and create a virtual canvas before they start on their real canvas! (You will have to create an account with SuperCool Art before gaining access to the virtual canvas.)
Completing Our Painting
After I was finished tracing, I let her decide which color she wanted to paint with first.  M tried painting within the lines at the beginning, but it quickly turned into more of an abstract style of painting, which is perfectly ok with me!  I'm happy that she enjoyed an art lesson that included beginning concepts in:
Color Theory
Mixing paint
Composition
Painting on stretched canvas
We will be able to use the template and other tools again when she is a little older, and can do more of the steps without so much help. And, we still have plenty of that nice tempura paint left for more painting in the near future!
Online Art Lesson Plans
There are several detailed art lesson plans on the SuperCool web site; I read over several of them before we started our project.  Slightly beyond my energetic and bouncy 4-year-old, but excellent for older kids (and their parents)!  You will find lessons on Color Theory, Composition, Scale and Proportion, and Mixing Paint.  There are also tutorials on taking care of paint brushes and using the stencils.
Visit SuperCool Art today to start some artistic adventures with your kids!
Disclosure: SuperCool Art, LLC sent me a complimentary painting kit to review.  This is my honest opinion.
---
Copyright 2013 Kathryn Depew
Related Articles