Darice Foamies Kids of the World Activity Bucket Review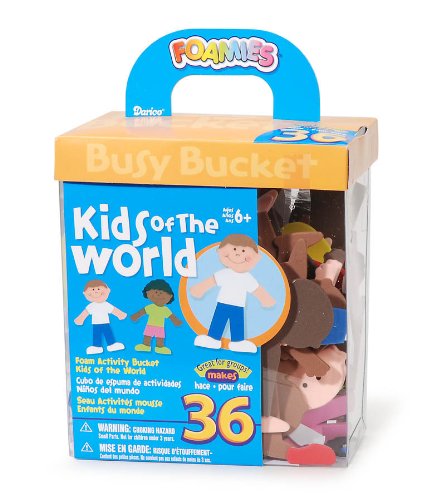 Disclosure: I was not compensated nor was I given free products in return for this post. I am an Amazon.com
affiliate, and will receive a small commission if the links on this page are used to make a purchase.
Preschool, Kindergarten, and  Elementary
We love craft kits around here, especially the ones that don't need a lot of prep or additional supplies! This Kids of the World Foamies Activity Bucket
needs only tacky glue, pen, and a small work surface. The clothes, shoes, and short hair are stickers – just peel and stick on the foam figures in whatever combination you like. Use glue to attach the long hair, and the pen to draw on the nose and mouth (the eyes are pre-printed.)
My preschooler and I had lots of fun dressing and wigging our little friends together. She also spent a lot of time working on them by herself (on at least three different occasions), which was nice when I had to get something else done!  I thought it would be a great activity for her to do with her cousin or even at a party. But when M found them she begged to do some right away. I was pretty sure she would enjoy them, but was actually surprised at how many she wanted to do, one right after the other!
The package says that the craft is for ages 6+, but my preschooler did just fine with it.  (If your younger children tend to put small items in their mouths, you may want to wait until they are older for this kit.)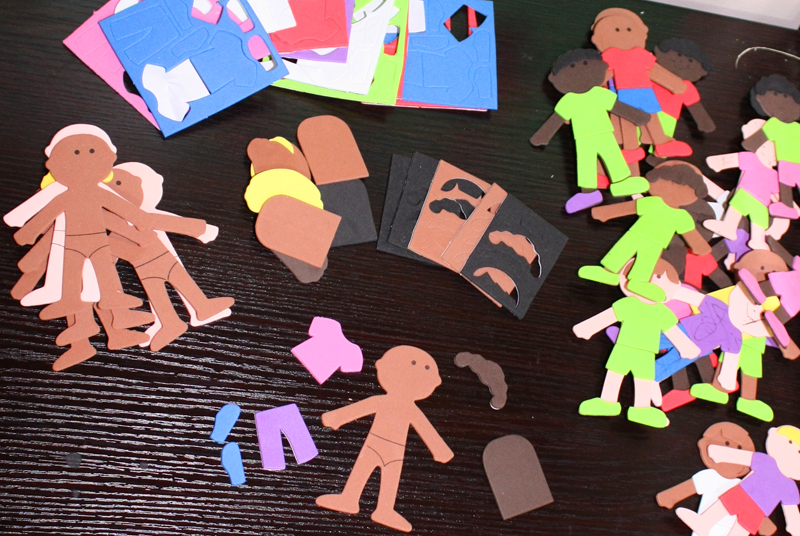 The Kids of the World kit
would be a great craft to go along with a world cultures curriculum theme. We happened to find these during the month that I had themed "All About Me." It was a fun activity that reinforced some of the ideas we had reviewed.
Excellent Value
When I bought this at Michael's it was either on sale or I had a coupon, so it was less than $5.00 before tax. At $7.99 retail (or $7.08 on Amazon.com
) it is still a great deal considering amount of time it has occupied my child, and how much is in the bucket (you can make 36 foam kids)!  These are also available at Hobby Lobby – remember to check their web sites for 40% off coupons!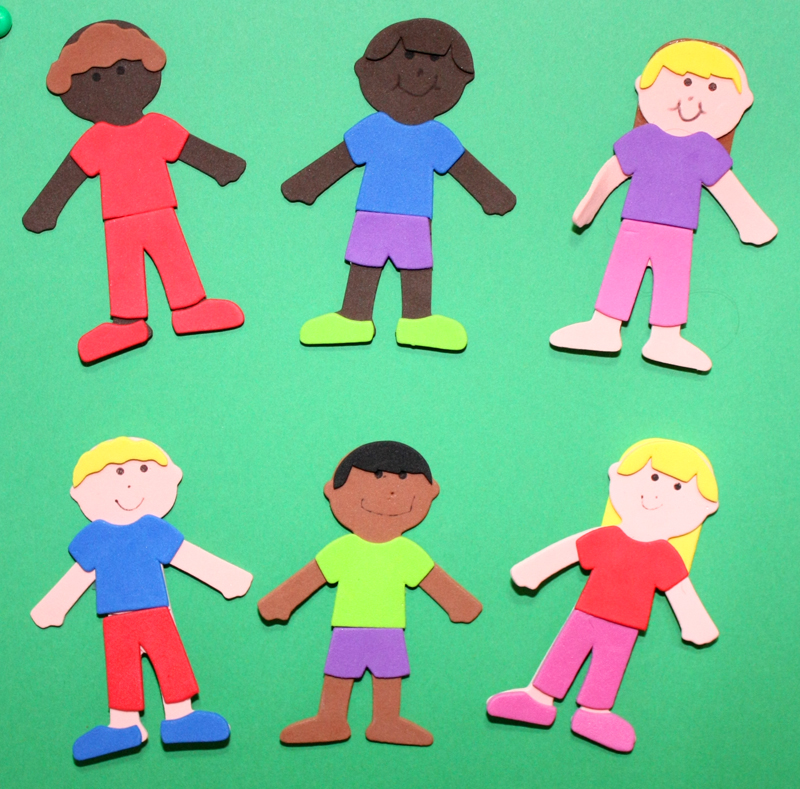 A Few Ideas For Your Finished Friends
Make a magnetic family: adhere craft magnets to the back of the figures and let your kids play with them on the fridge.
Make a scene: use double-stick tape to adhere the figures to a piece of construction paper. (First have your kids draw a scene of a house, farm, playground, picnic, etc.)
Emote: use the figures to talk about feelings; have your kids draw different expressions on the faces to match different emotions.
Puppet show: glue craft sticks on the back of the figures to make puppets.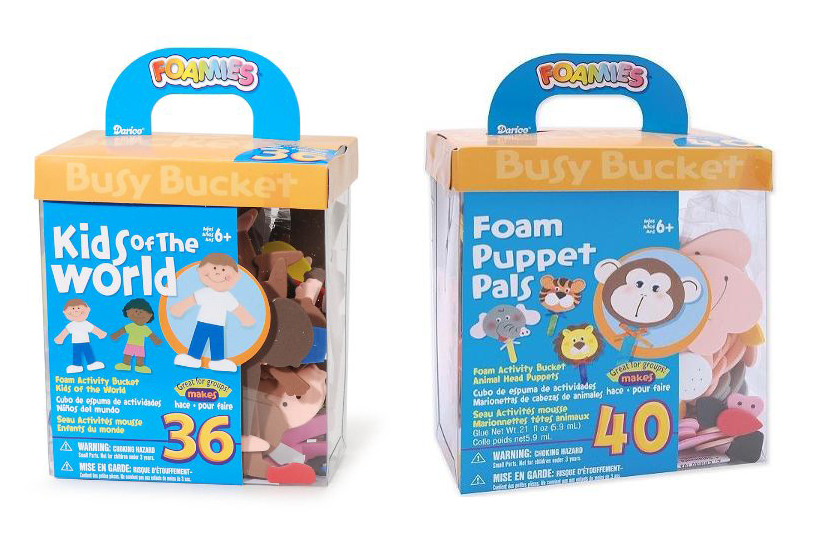 Giveaway!
We like these kits so much we want to give them away! One reader will receive two brand new buckets for their family: one Kids of the World
, and one Animal Puppet Pals
. (We haven't tried the animal puppets yet, but plan to soon!)
This giveaway ends at midnight Eastern time on November 20, and is open to U.S. residents only. Must be at least 18 years old to enter. Please enter on the Rafflecopter form below, all entries are optional. All of the winner's entries will be verified. The winners will be chosen and notified within two days of the end of the giveaway. The winners have two days to claim their prizes; if there is no response another winner will be chosen.
a Rafflecopter giveaway

Disclosure: This giveaway is entirely sponsored by Cotton Ridge Homeschool. I will personally mail the prize to the winner.  I was not compensated nor was I given free products in return for this post. I am an Amazon.com
affiliate, and will receive a small commission if the links on this page are used to make a purchase.
---
Copyright 2013 Kathryn Depew
Related Articles