Creative Ways to Teach Kids How to be Safe: The Safety Show Review (#safetyshow)
Ruby's Studio: The Safety Show DVD Review
Disclosure: This post was sponsored by The Mother Company. I was compensated for this article, however, my opinions are entirely my own and based on personal experience.
We've been searching for ways to teach our preschooler about dangerous people and situations without overdoing it or causing unnecessary anxiety. Ruby's Studio: The Safety Show from The Mother Company addresses this sensitive and important issue with gentleness and creativity.  I was excited about the opportunity to review this wonderful DVD, it came along at the perfect time for our family!  Don't forget to scroll down for a discount code and the Pin To Win contest!
You are the only you in the world, and you are loved.
This last statement by Ruby at the end of The Safety Show really touched me, because that is the message my husband and I so want our daughter to learn.  The fact that every child is loved not only by his or her family and friends, but by the Creator Himself, endows children (and adults, too) with the right to be treated with respect and kindness. You can view the trailer below.
I was unfamiliar with the Ruby's Studio series before I saw this show, but as a mother of a preschooler and an aunt to four nieces, I have seen a number kids' shows – from the downright silly to top-notch "edutainment".  In my opinion, Ruby's Studio ranks with the highest quality kid's programs I've seen.  Being a multi-tasker, I love it when we can be entertained and educated at the same time!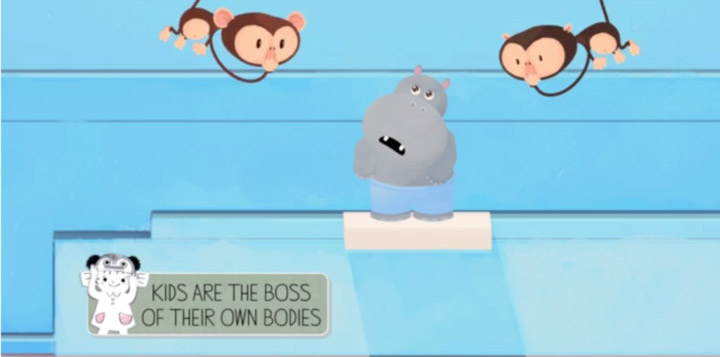 The blend of live action with real kids (who don't appear to be acting) and animation was fun and engaging. It moved from one segment to another nicely, and I didn't feel like my preschooler's attention span was being decreased in the process!  We enjoyed playing along with the "Safety Game" and appreciated learning about that "uh-oh" feeling.
We are rather crafty around here, and once upon a time (and upon occasion now) I was an aspiring ceramic artist.  I suppose that is one reason the concept of a "studio" resonated with me.  My studio currently is a table in my office, and occasionally the dining room table instead.  My pottery wheel is sadly buried under boxes, and one of my kilns needs fixing.  But right now I'm very happy doing kid's crafts with my daughter and nieces, knowing that one day my nest will be empty, and that will be soon enough to get back to my pottery clay.  We were excited when the craft segment on the video began; Ruby shows the kids how to make cuffs with their "safe adult's" phone number in it (see the YouTube video above).  M asked to make the colorful cuffs, and the materials didn't seem to be expensive at all, so of course I said "yes!"
M was thrilled when the "Boss of My Body" music video started approximately 30 minutes into the DVD.  She had seen this video before and would watch it again and again if it were up to her!  You can watch it now with your kids by pushing the "Play" button on the image above.
My daughter was very attentive during the entire Safety Show, and immediately asked to see it again…NOW.  (We couldn't right then – it lasts approximately 45 minutes.  But I promised we would watch it again soon.)  I'm also looking forward to watching the other Ruby's Studio DVDs as soon as we can!
Live Showings and Discount Code
The Mother Company is holding several free launch events across the country!  Check out the free live showings and kids activity events at this link.
Interested in learning more about Ruby's Studio:The Safety Show? Here's a fun and informative post from founder Abbie Schiller about why they created this DVD. You can purchase your own copy and receive 20% off the DVD or Download with this discount code: Safety2013 (expires 12/31/13).
Pin To Win (Expires 11/5/2013)
The Mamas from The Mother Company are offering a fun Pin it to Win contest too! The contest is open to U.S. residents 18 years and older, and ends at 11:59 p.m on November 5, 2013.
Enter now for a chance to win:
A set of their newest books: A Little Book About Friendship, One For All, and Casey Caterpillar Feels Left Out
PLUS a copy of the DVD The Safety Show
AND a $25 Amazon Gift Card!
Thank you for visiting Cotton Ridge Homeschool!
Disclosure: This post was sponsored by The Mother Company. I was compensated for this article, hhowever, my opinions are entirely my own and based on personal experience.