Word Flips Educational Game Review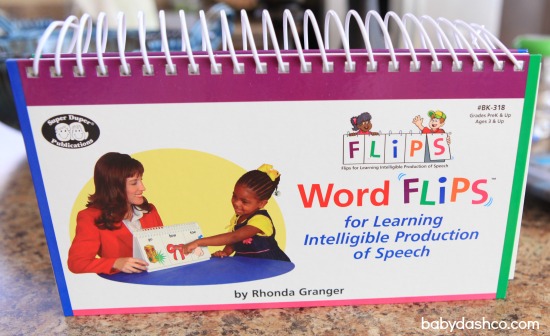 I am pleased to bring you this guest review from Kathryn Flamme of BabyDashCo.
Word Flips with real words and pictures is a must for children with limited speech, unintelligible speech, and/or childhood apraxia of speech! Teach functional vocabulary words, such as greetings and requests (for example, "hi,""go," and "bye,") while practicing up to three repetitions of sound sequences. Word FLIPS includes three sections of identical picture words with four tabs in each section that divide the words according to articulatory placement: Bilabial, Alveolar, Velar, and Palatal. Begin teaching severely unintelligible children by having them repeat identical earlier developing sounds, such as "boo-boo-boo." Older or more verbal children can practice a variety of sequences, such as "tie-tea-shoe" as a warm-up to practicing sentences.
My 4-year-old loves to learn and he's at the perfect age to start bettering his speech especially since he'll start kindergarten next year. I want him to go with a head start and Word Flips is the perfect way to start! I found that he'll pick up the Word Flips on his own and flip through the cards. It's great to see him want to learn. Word Flips is also great for breaks or after school learning to keep their mind active! I really love using Word Flips with my kids.
The Word Flips had a convenient built-in stand to make it easier for your child to learn. I found he's not complaining as much because it's at eye level vs. laying down on a table where his neck can get sore faster.
Giveaway
Super Duper Publications is offering one winner a $50 gift card to use on their website!  The giveaway begins September 20th and ends October 4th. Please enter using the Rafflecopter form below.  Thank you for visiting Cotton Ridge Homeschool!
This Giveaway is Hosted by BabyDashCo
---
Disclosure: I received no compensation for this post.  Cotton Ridge Designs, LLC are not responsible for prize fulfillment. This giveaway is in no way associated with social media such as Facebook, Twitter or Pinterest.