Earth and Space Lesson Plan – Preschool Curriculum Ideas For Homeschool
For an introduction and to see how this post fits in the complete list of preschool lesson plans, please see my post: Preschool Curriculum Ideas For Homeschool – Lesson Plans For The Year.
Goal & Objectives
Goal:
1. Beginning awareness of Earth and Space: understanding seasons, weather, telling time, gravity, solar system.
Objectives:
1. Learn the months of the year, the four seasons, and the different types of weather.
2. Begin to learn how to tell the time.
3. Learn about gravity and the solar system.
4. Learn about solids, liquids, and gases.
Notes
Below are links to materials, resources, and tutorials for the "Earth and Space" Lesson Plan. Please pick and choose the ideas and resources that fit the interests of your child(ren).  My schedule calls for combining this lesson with the Fall Season Lesson and the Joseph and Moses Bible stories. (These articles to be posted soon.)
An important note before considering a curriculum for preschoolers: sometimes just the act of making a plan creates pressure to complete it, no matter what. But researchers – and lots of Moms – emphasize that very young children learn best by playing. So don't worry if your lesson plans are thrown out the window some days! (Save your materials for kindergarten next year if you don't get to them this year.)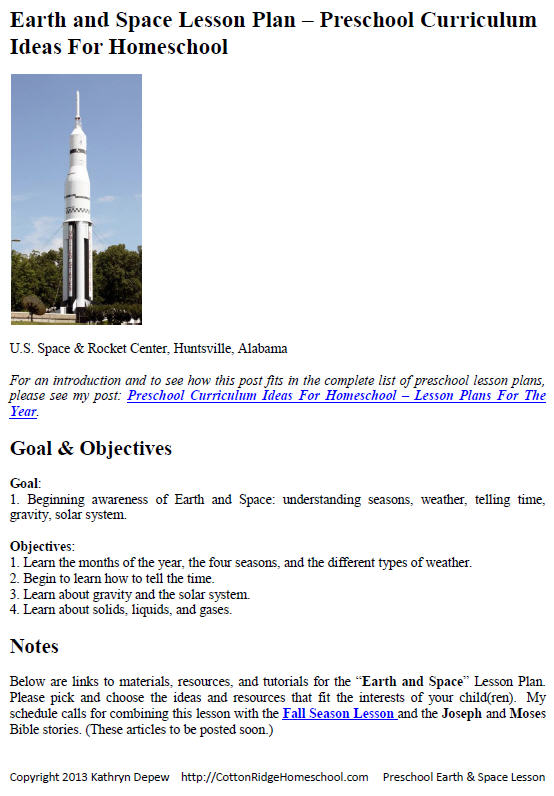 Click Here For A Downloadable PDF of this Lesson Plan (includes clickable links), to save on your computer.  You can keep a printed version in your school supply bin, and take the Reading List to the library.
Lesson Plan
Arts & Crafts
Reading & Writing Exercises
Math
Science
Field Trip
Planetarium
Space & Rocket Center
Social Studies

Map Activity
(Idea adapted from a Five In A Row activity.)

You will need: wall map of your country, wall map of the world, thumbnail-sized pictures of your family members, poster putty
, laminator
(optional).
Pin the maps on the wall within easy reach of your child(ren). (Wall maps with a laminated or gloss-type surface work better than plain paper.)
Cut out small pictures of your family members and laminate (laminating is optional).
Talk with your child(ren) about where they live, and where their family members live, and point to the map, then have them put their finger on the map, too.  For example: "we live here in Huntsville, Alabama, see?  Grandpa and Grandma live in this city in Kentucky, and Aunt Mabel and Uncle Henry live in way over in London, England!"
Put small pieces of poster putty on the back of each picture, and let your child tack the pictures on the appropriate cities on the map(s).
Extended Activity #1: Before going to the wall maps, show your preschooler where your country and city are on a globe
(if you don't have a globe, an inflatable globe
will do – it is very inexpensive and it doubles as a toy!)  Talk about how we live on Earth, and that the globe represents Earth.  If your child is really interested, you may also want to talk about the location of our planet on a solar system chart
.
Extended Activity #2: Print out and laminate thumbnail images of your favorite story books, and help your children find where the images should go on the map according to the story.  For example, we printed out a thumbnail of Madeline by Ludwig Bemelmans
, and placed it on Paris, France.  Another example would be Grandfather's Journey by Allen Say
(we placed it on Japan, then California, then back to Japan).
Reading & History
---
* A Beka updates these books occasionally so I am not including page numbers or specific descriptions.
** I suggest allowing your child to do as few or as many of these worksheets as they like.
*** Egermeier's Bible Story Book
is wonderful for children who can listen to a story while they color, and do not need a lot of pictures in the book to keep them interested.
Thank you for visiting Cotton Ridge Homeschool! I hope these plans help you with your preschool year. Please feel free to comment below with your own ideas!
Disclosure: I am an affiliate of Amazon.com
and will receive a small commission if the links above are used to make a purchase. However, I only recommend products and companies that I believe will benefit my readers. My opinions are entirely my own and may differ from yours.
---
Text and Image Copyright 2013 Kathryn Depew
Related articles