Infographic: Prepare for Tomorrow Today – What Do You Want To Be When You Grow Up?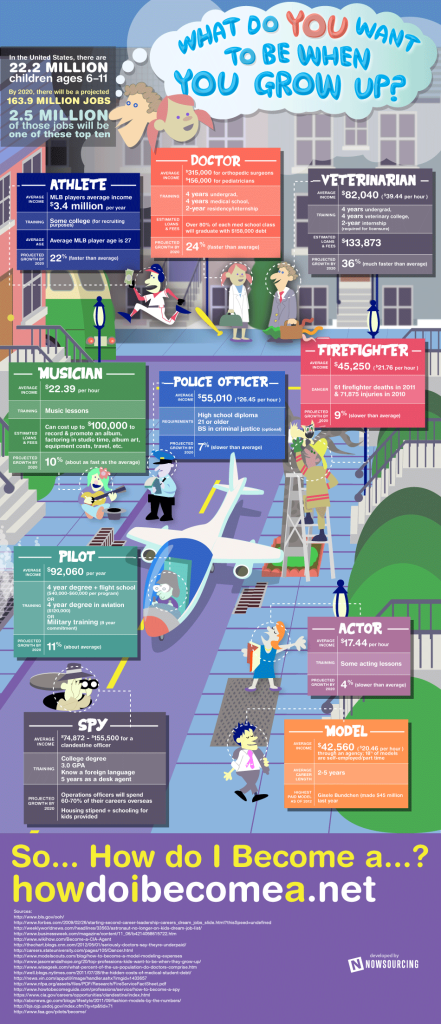 How many times do you ask this of children?  It's fun to hear their creative (and sometimes very serious) answers.  And it is an important question, especially as kids face completion of high school and start thinking about what comes next.  This infographic and article from When I Grow Up I Want To Become A… should help get a discussion started between you and your children!  (Click on the image for a larger view.)

Many times, young minds are discouraged from accomplishing the seemingly impossible due to feelings of being unprepared. Knowing the journey ahead is not to discourage but encourage young minds in fulfilling life-changing goals.
There are many career options to choose from; whether it is a doctor, painter, writer, or president of the United States. Preparing for these dream careers grants a young one a better chance at accomplishing their goals instead of waiting until after high school.
Knowing the prerequisites of a career and knowing what is demanded on a job helps shape a young one in navigating through life's choices. By doing so, children are more motivated to make better decisions such as living a healthy lifestyle and saying no to harmful substances like drugs. It is never too early to desire toward a dream job, and understanding the journey ahead allows everyone to prepare for tomorrow.
Source: When I Grow Up I Want To Become A…
---