Beginning a Reading Routine with Your Child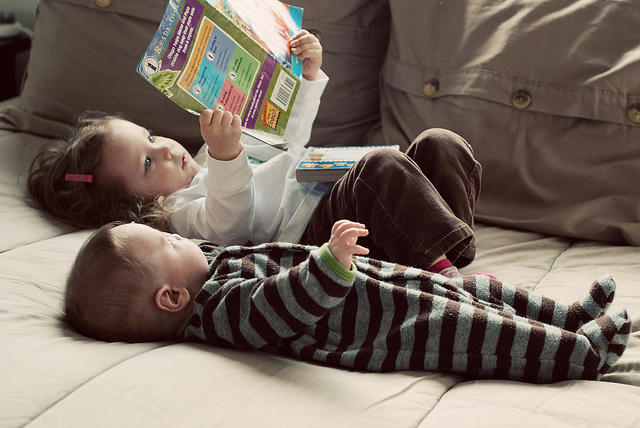 A few tips on reading with your child from guest author Norma Brown.
Starting a reading routine with your child is a great way to prepare him for school. It is also a good way to have some quality time with him. It's never too early to start your child on books. It is actually advisable to read to babies while they are still in the womb and when they are born. If you want to start a love for books in your child, here's how.
Pick something your child is interested in
It does not matter if it's a book, a magazine, a comic book, etc. The important thing is you will be reading together and it's something that your child will enjoy reading.
Schedule your reading time
Make reading a regular habit by making a specific schedule for it. It could be after homework, before bedtime, during Saturday afternoons, etc.
Make your child comfortable
Pick your very own reading spot. Make this spot special so that your child will know that reading time is a special time to bond with you. It can be on the floor in her room, on a beanbag or under a tree in the garden.
Read like you are performing
Your child will appreciate the story and characters better if you use gestures, facial expressions and voice changes. This will make him excited and fascinated with your story and will be eager to hear more.
Let your child read aloud
If your child already knows how to read, let him read aloud, correcting any pronunciation mistakes. This is a good way to practice his reading skills. It will also help him overcome his shyness to speak publicly (if any). In school, teachers ask students to read aloud or recite a poem out loud. If your child is already used to this situation, he won't have any problems doing it in school.
Encourage questions
Tell your child to ask questions if he does not understand a particular word or phrase or if he does not understand some parts of the story. You should also ask him questions like what he thinks about the characters, what parts he enjoyed and what lessons he has learned.
Take it slow
You don't have to finish a whole book in one sitting unless it's a very short book. Young children usually have a small attention span so divide the chapters accordingly.
Lead by example
Finally, show your child that you also enjoy reading. If your child sees you reading during your free time, he will realize that reading is an enjoyable thing and not something that needs to be done because the teachers said so. Besides, reading is good for you too.
This article was written by mom blogger Norma Brown. Visit her site for good quality nursery school equipment.
Image of Children Reading by ThomasLife on Flickr. Used under the Creative Commons license.
---
Related articles