Five Creative Ideas to Keep Your Kids Away from the TV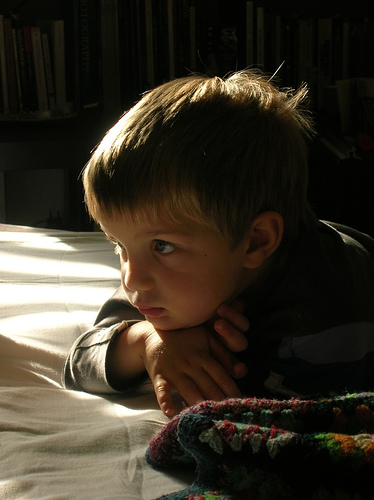 We all know that many children watch too much television but it can be difficult to keep them away from it. In this guest post, you will find 5 tricks designed to keep kids away from TV without any fuss.
1. Don't Demonize the TV
When parents and other adults go on a tirade about the evils of TV, it may very well backfire. Yes, there are many stats to back you up. Obesity in children seems to correlate very strongly with how many hours of TV they watch per week. On average, children will have seen more than 8000 murders on TV by the time they finish the sixth grade! They will have been bombarded with more than 20,000 high volume commercials too. However, if you demonize the TV, in many cases it will only make the kids want to watch it more. It will become the "forbidden fruit" that they will sneak around to see. Instead of lecturing, keep them busy with other enjoyable activities.
2. Substitute Fun Activities For TV
Instead of saying to your kids, "I don't want you watching TV," try suggesting a fun activity that will get them hopping off the couch and away from the TV. Perhaps a trip to a favorite park for a picnic, a bowling night out, a trip to an interactive hands-on exhibit at a museum, or even a simple barbeque in the backyard. It really doesn't matter what you do, as long as it is enjoyable for you and the kids and it gets you all away from the TV.
3. Get Your Kids Active in Sports, Choir, Dance, Nature Clubs, etc.
Many kids come home from school and get bored so they "veg out" in front of the TV. Unfortunately, this becomes an even bigger problem during the summer and other school holidays. You can trick your kids into not watching as much TV if you simply get them involved in after school activities and other community activities. This will keep them physically active, mentally stimulated, and improve their social skills. Best of all, it gives them less opportunity to watch television, even though they'll be having so much fun they may not even realize it!
4. Show Your Children the Real World
Children who watch a lot of TV sometimes get an erroneous impression of the world. They don't understand what real life is all about. One way to trick children into spending less time in front of the TV is to give them real life learning opportunities. You can take your kids to work to show them what you do for a living and how you make the money that buys the food, shelter, toys, etc. You can visit a senior community and let them interact with much older people who can impart wisdom. You can take them with you to volunteer in shelters and soup kitchens to teach your kids compassion and show them how good people can get down on their luck. You can get older kids involved in a mentorship program to learn new skills. The main point is to give your children a chance to experience the real world away from the TV set.
5. Create an Activity Room or Game Room
If you have a spare room, a garage, or a big basement, you may consider converting this space into a fun activity room for the family where you intentionally leave out the television. Instead of the TV being the centerpiece of the room, you can put in a large activity table, a pool table, or a ping-pong table. A large aquarium can also be a very popular and relaxing centerpiece as well. Plants and artwork can add pizzazz to your special room too. You can include comfortable furniture and maybe a fort for the smaller children to play inside. You can have a place for toys and large stuffed animals. Depending on the hobbies and interests of your family, you can make special nooks devoted to these activities. Perhaps a place with good lighting to build models in one corner and a sewing machine and a place to lay out patterns in another corner. You could also potentially put in a nice stereo system with an assortment of music. In another corner, you could place a bed with a natural, organic mattress to lie on and listen to music. The main point here is to make this room a place where the family really wants to be, an enjoyable relaxing place without a television in sight!
Guest Post by NaturalMat– Natural, Anti-Allergy Mattresses.  Image by giovanni_giusti on flickr, used under the Creative Commons license. I was not compensated for this post.
---
Related articles