Yummy Earth Organics Review
Thank you for visiting Cotton Ridge Homeschool!  If you are looking for a healthier alternative to the usual Halloween candy this year, consider handing out treats from Yummy Earth Organics!  This review and giveaway is from author Kara Teel.
Organic Treats
Yummy Earth Organics is such a great company to work with and I am so excited to have had the chance to review some of their holiday candy. If you missed out on my previous review of their company, you can read it here. I very much enjoy their healthier version of yummy candy and the fact that I can hand it out to trick or treaters who pass by this Halloween and know that their parents will be grateful to have one less candy bar in their child's bag at the end of the night.
Yummy Earth is the #1 organic candy company in the country and is a proud leader in the organic and all-natural sweets and snacks category. The company's delicious treats are catching the attention of celebrities like Cynthia Nixon, Heidi Klum, Mariska Hargitay, Rachael Ray, and Kate Hudson. You can find their products in stores nationwide, including Target, and Toys 'R Us.
Read Kara's full review here.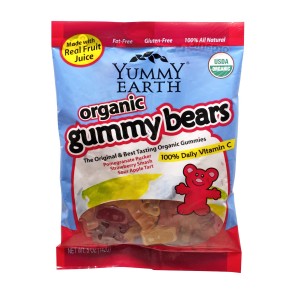 One winner will receive the chance to try out the Halloween Gummy Bears! This giveaway will end on 11/1 and is open to U.S. residents. Please enter on the Rafflecopter below.
Disclosure: Kara's Deals and Steals received a free product package from Yummy Earth Organics in exchange for a review. I was not compensated for this publication. Cotton Ridge Designs, LLC is not responsible for prize delivery.
---
Related articles