The First Ladies of the United States: Martha Washington

"I am determined to be cheerful and happy in whatever situation I may find myself. For I have learned that the greater part of our misery or unhappiness is determined not by our circumstance but by our disposition."
– Martha Washington
This is the first in a series of  articles on the First Ladies of the United States. 
Martha Dandridge Custis Washington
Martha Washington, the wife of the first President of the United States, was born to John and Frances Dandridge in 1731, and died in 1802.   She had an informal education at home in music, sewing, and household management.  Martha Dandridge was also tutored for about five years at Poplar Grove Plantation until age 12 or 13.  She was later taught plantation management, crop sales, homeopathic medicine, and animal husbandry, most likely by Thomas Leonard, an indentured servant of the Dandridge family.
In 1750 at 19 years of age, Martha Dandridge married Daniel Parke Custis, a man who was twenty years her senior. They lived in "White House,"  a mansion on the Pumunkey River in Virginia.  When she was widowed with two children at the age of 26, Martha Custis had considerable influence through her wealth and prominent social status.
Martha Custis married Colonel George Washington at the age of 27 in 1759, and lived with him at the Mount Vernon Estate in Virginia.  At the time he was commander of the First Virginia Regiment in the French and Indian War and a former member of the House of Burgess, Frederick County .
"With her extremely large inheritance of land from the Custis estate and the vast farming enterprise at Mount Vernon, Martha Washington spent considerable time directing the large staff of slaves and servants. While George Washington oversaw all financial transactions related to the plantation, Martha Washington was responsible for the not insubstantial process of harvesting, preparing, and preserving herbs, vegetables, fruits, meats, and dairy for medicines, household products and foods needed for those who lived at Mount Vernon, relatives, slaves and servants – as well as long-staying visitors."
During the American Revolution, Martha Washington supported the effort to enlist women of the colonies to volunteer on behalf of the Continental Army.  American servicemen addressed her as "Lady Washington" in appreciation for her service during the war.  Although Martha Washington did not enjoy her eight years as the first First Lady (note – the term "First Lady" did not come into use until after 1849), she viewed it as a duty to her husband and her country.  In New York City, the first capital, she had few personal friends and expressed a feeling of loneliness, even though her two grandchildren were with her.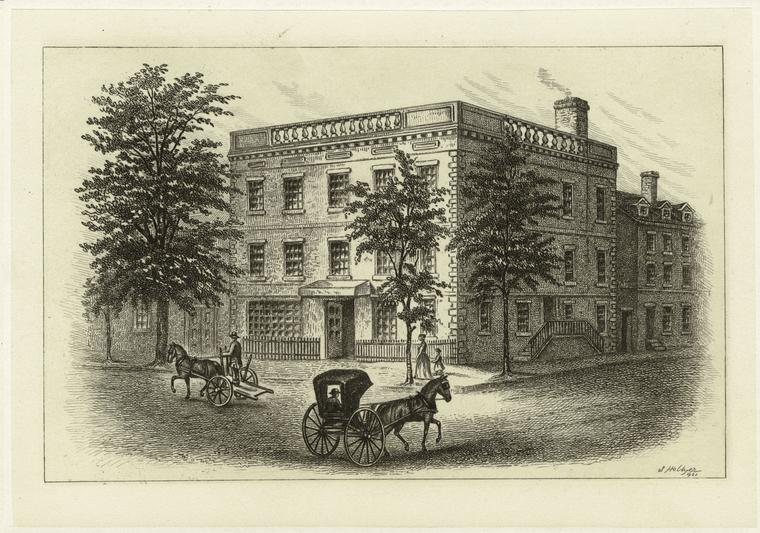 George Washington's House, Cherry Street, NYC, 1788 – Source: New York Public Library
---
"Establishing her public role as hostess in the series of presidential mansions in New York and Philadelphia Martha Washington held formal dinners on Thursdays and public receptions on Fridays. No evidence suggests what or if she sought to influence any of the President's decisions; later remarks attributed to her imply her to be a strong partisan of his Federalist Party. Newspapers of the Anti-Federalist Party criticized the formality of her receptions as evoking the royal court of the British monarchy, against the tyranny of which the American Revolution had been fought. She remained beloved by Revolutionary War veterans, and was publicly known to provide financial support or to intercede on behalf of those among them in need. Not only Americans, but Europeans responded to Martha Washington as something of an American heroine, sometimes sending her lavish gifts."
Martha Washington was relieved to return to Mount Vernon at the end of her husband's term in office.   After his death in 1799, their slaves were promised freedom upon Martha Washington's death.  During the period after George Washington's passing, Martha Washington gave hospitality to political figures and others who came to pay their respects to her and visit the burial place of the late president.  She often expressed loneliness for her late husband.  Martha Dandridge Custis Washington died at Mount Vernon in 1802 at the age of 70 years old.
---
Source of text (including quotes):  The National First Ladies Library
The National First Ladies Library features the biographies of all the United States' First Ladies, as well as a wealth of other information.  Be sure to explore the Lesson Plans database  –  you can sort by name, category, and student age group.
Another wonderful tool on the web site is the First Ladies' Educational Time Line.  Here you can type in a beginning year and ending year, and the web site will show significant events that happened each year.
---
"NYPL Digital Gallery provides free and open access to over 800,000 images digitized from the The New York Public Library's vast collections, including illuminated manuscripts, historical maps, vintage posters, rare prints, photographs and more." – NYPL Digital Gallery
---
I loved this book!
---
Copyright 2012 Kathryn Depew
Related articles