Fun & Educational in Huntsville, Alabama: Burritt Museum on the Mountain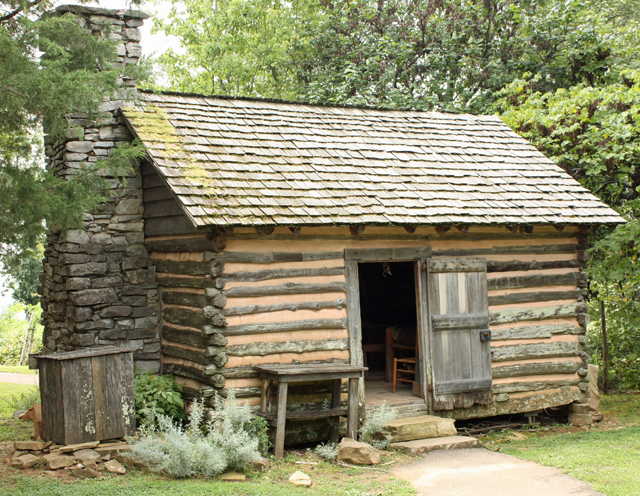 Learning and Playing Outdoors
We visited Burritt Museum on the Mountain today; it had been years since I'd been there, but I had good memories of their Candlelight Christmas celebration. After enjoying a picnic lunch overlooking Huntsville (a great view even if it was a little hazy today) we explored the cabins and the barnyard. We didn't make it to the main house today, but I decided to join Burritt's membership program ($50.00 per family for one year), so we can come back soon.
The volunteers are welcoming and helpful, and the museum is very kid-friendly. Deciding to become a member wasn't a difficult decision after the volunteer described the variety of educational opportunities and events Burritt offers. I've been wanting to find a place where we could go to learn and play outdoors, and this seems like the perfect spot!
About Burritt on the Mountain
From Burritt Museum's web site:
"Burritt is a unique Huntsville Treasure named for Dr. William Burritt who gave the land and his home to the city in 1955. We have nature trails, Dr. Burritt's unique mansion used for exhibits and available to tour, a Historic Park with 6 log cabins, their related outbuildings, and a barnyard complete with animals. The Historic Park allows the interpretation of rural farm life in the area between 1800 and 1900."
"We provide a wide range of educational learning experiences for children through field trips, camps, and our partnership with EarthScope, the environmental education program sponsored by the City Schools System.  We also provide artistic and recreational experiences with our world class City Lights and Stars outdoor concerts series, exhibits in the mansion, and other theatrical events during the year."
"Families enjoy our big festivals and monthly Historic Park programs and holiday events including Candlelight Christmas, Holiday Magic, and the Easter Pawrade.  Adults enjoy our ever-expanding social events like Murder in the Mansion and Burrittinis on the Bluff and our educational series ranging from floral design to bird watching."
Homeschooling, Field Trip & Camp Opportunities
Preschool: Burritt Buddies
On the fourth Wednesday of each month Burritt holds a special time for 3 and 4 year olds featuring the barnyard animals.  From 12:00 – 1:00 pm the children enjoy a combination of activities in the park that may include a craft, story, game, snack or tour. Reserve your spot at least two days before by calling 256-536-2882.
Kindergarden – Eighth Grade: Homeschool Happenings
Once per month Burritt Museum offers classes for Lower Elementary, Upper Elementary and Middle School homeschooled students.  Various subjects are covered throughout the school year; be sure to check the Homeschool page for class descriptions, downloadable schedule, and reservation forms.
Group Tours & Field Trips
Guided educational tours are available for groups of children in grades Preschool – Twelfth grade.  Visit the Guided Tours page for a description of the various tours available and reservation forms.  Field Trip Fridays include International Heritage Festival (October), Mr. McGregor's Spring Farm Days (April), and Whimsical Woods (March, April, May and August).  Check the Field Trips page for specific dates and descriptions for each event.
Day Camps
From the Burritt Museum web site:
"Burritt camps for children offer unique day-camp programs for children during school breaks. Each spring, summer and fall we offer camps for students in grades kindergarten through 5th grade (K-5). Each camp centers upon hands-on learning activities specially designed to explore environmental, historical, scientific and cultural experiences while providing hours of fun. Campers will be divided into age-appropriate groups for each camp, and activities will be designed for each developmental level."  Visit Burritt's Camps page for hours, reservation forms, and more information.
---
Cultivating Outdoor Classrooms: Designing and Implementing Child-Centered Learning Environments
Designs for Living and Learning: Transforming Early Childhood Environments
Fifteen Minutes Outside: 365 Ways to Get Out of the House and Connect with Your Kids (Kindle Edition)
---
---
Copyright 2012 Kathryn Depew
Related articles