Favorite Things: Cleaning Products & Other Household Stuff
Housework-Challenged
When I was a girl my Grandmother advised me that the best way to run a household was to set aside certain days of the week to do certain chores.  For example, Monday for laundry, Tuesday for ironing, Wednesday for vacuuming, etc.  I thought it was silly at the time.  But now, 30 years later in my 40's, I'm reconsidering her advice.  After all, her house was usually clean and very neat, and mine is….not.
I've been looking for cleaning products that will actually clean for me, while I play with my daughter outside or work on the computer.  Aside from the Roomba (which I haven't tried yet because I have too much stuff on my floors for it to navigate), no luck.  There are a few things I've found over the years that make it a lot easier to clean, though.  Unfortunately now I don't have as many excuses for not doing it!
Helpful Cleaning Products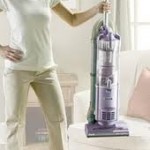 Shark Navigator Vacuum
(bought for $120 at Costco)
Pros: Light (doesn't hurt my back to push it), no bags, long power cord, long hand-held hose, works great, not too loud, reasonably priced.  Con: if you pull the hand-held hose too far the vacuum falls over instead of rolling along with you.
Swiffer Stuff
Swiffer Sweeper Wide Mop
Pros: Very light and quick.  Catches the dust on the pad (vs. getting caught on broom bristles).  Con: just pushes dirt around, so you still need a hand broom and dust pan to finish up.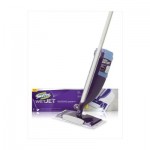 Swiffer WetJet Mop (bought for $20 at Wal-Mart a few days ago)
If it's possible to love a mop, I love this one.  I just replaced my worn out Clorox ReadyMop with a Swiffer WetJet Mop (I managed to wear the ReadyMop out in about 8 years).
Pros: The pad just sticks to the bottom – no little holes to poke it in (I was wondering if it would stay put, but it did, no problems). Just push a button and it squirts the cleaning solution – no bucket needed.  No need to rinse, either (I used the solution that came with the mop on both my kitchen floor and laminate wooden floor with no significant residue left behind).  When finished, peel off the pad and throw it away!  Con: a little pricey – not the mop itself, but the replacement pads are a little more than 50 cents each.  I need to look for a good place to buy these in bulk.
Swiffer Dusters with Extendable Handle
Pros:  These work great – they capture the dust instead of just moving it around. They also seem to last a long time.  Cons: Honestly, I don't know.  As easy as these are, I still don't dust.  My husband usually does it.
Dust Mitt
See above.
Mr. Clean Magic Erasers
Pros: These work great on counter tops and even clean up grease off of the stove easily!  Usually no need to scrub.  Cons: These are white and look dirty even after they are rinsed out.  They disintegrate as they are used.  I try to save them only for the tough jobs, since they don't last as long as a regular sponge or washcloth.
Other Helpful Household Items
Sippy Cup
I had no idea that finding a cup for a baby, toddler and now a 2-1/2 year old could be so frustrating.  Usually they really do leak (in spite of "leak-proof" or "no-spill" claims), the straw isn't long enough to reach the bottom of the cup, or there are too many parts and they get lost.
The best cup for 2 year olds that I've found so far is the Nuby Super Spout Easy Gripper with the silicone spout (no straws). The old version of the Nuby spout used to be easy to push in from the top.  We've had the new version for a few weeks now and I haven't discovered any problems yet.  We found them at Sam's Club packaged with Nuby Snack Keeper
(also nice to have) and at Wal-Mart for $1.75 each – a great price.
Update, July 2012: I have found that these indeed do leak if turned upside down.  Sigh…. This is still our favorite, though: they are easy to hold, easy to assemble/disassemble, and compared to other sippy cups, are very inexpensive.
Bathing & Shampooing (A 2 Year Old)

Mr. Bubble Extra Gentle 36 oz Bubble Bath – lots of bubbles, no rashes, no obvious film left on my tub, less expensive than many of the bubble bath bottles marketed to children ($3.50 at Wal-Mart).

BESTEK Shampoo Cap – adjustable, no water or shampoo in eyes, inexpensive ($6.19 on Amazon.com), makes her look like a princess (she pretends its a crown).
---
Copyright 2012 Kathryn Depew
Related articles
---